Well, if you are searching for why a website is important? You are already too late because in this digital era if your business or service doesn't have any online presence you are creating a mess. But, don't worry, it's never too late; you can also take a jump into this digital world and start growing your online community.
It all starts with a website. You lose many potential and targeted customers if you are a business owner who needs a website. A website is an essential tool to grow your website without hassle. Because the world is turning into the internet and lots of people, before buying any of the products, search engines to search their specific needs, that's why this will be the point where you can also take advantage of this era by creating a website.
So, in today's guide we are going to discuss the all those reasons for which a website is important. Let's dive into it.
Why a Website is Important for Businesses:
As you know over time the usage of the internet has increased vastly and what if we got an opportunity to expand our business at almost no cost. Though there are multiple reasons why websites are important, let us share the most interesting ones.
A website will help…
You to get several digital marketing benefits
To grab the most cost-effective and beneficial advertising opportunities.
Make quick contact with your potential customers.
Important to build the credibility of your business.
In short, a website has become the need of the hour and you can't deny its importance. Sometimes people might think that they have a small business and they have no need to create a website but they are wrong. Having a website is equally important for small business otywners as they are for large ones. Because who knows, you might get the right audience with less or no cost. So, never underestimate the power of this online era. You can read the Post requirements of the website for further info.
Top 5 Reasons – Why a Website is Important:
Nowadays, people are so smart that they don't have enough time to visit a shop, they just simply prefer to shop while sitting at home and how could you miss this chance? There are tons of reasons for getting your business online and creating a website. And some of them we will discuss here. So, without further ado let's jump into it.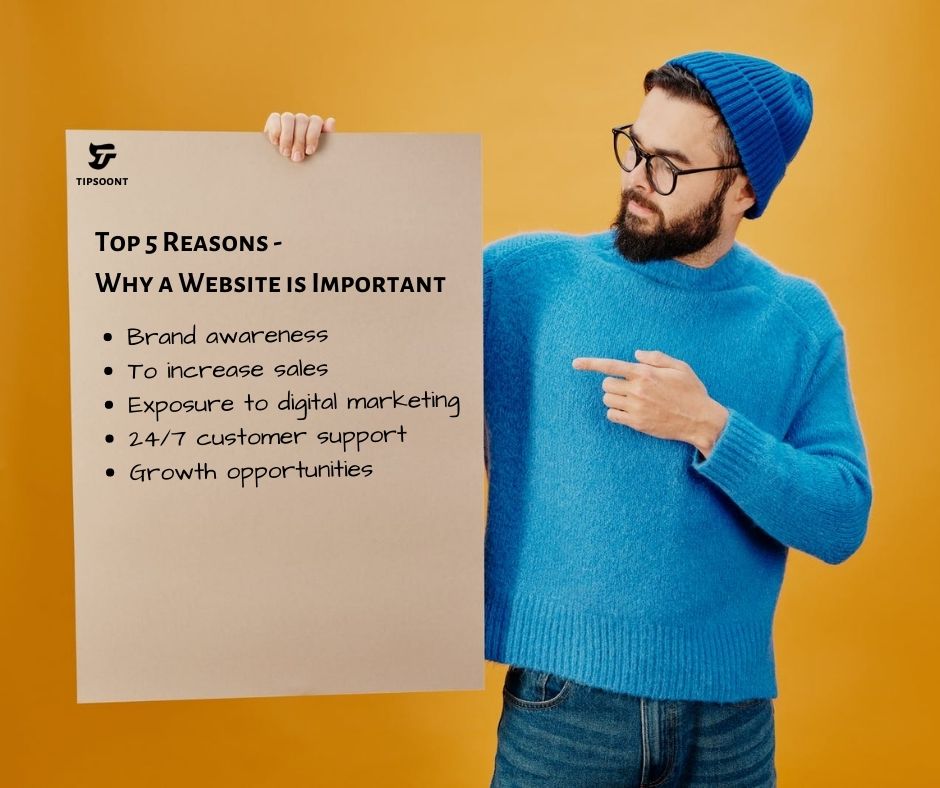 1- Brand awareness:
Branding is the most important part especially when we talk about any business, and when it comes to branding there could be no better way than creating a website. A website will help you to customize your brand colors, schemes, logo, themes, etc. Most of the time people tend to have this opportunity just to grab the deal of branding as it creates a long-lasting impression in your reader's mind. And for better branding of your brand, a better design of your site is extremely important.
By showcasing your brand story and highlighting the key points of user needs, you will create brand awareness in the market so that people can trust you and consider you a reliable source of information.
2- To increase sales:
To clearly describe the purpose of a websiste all we can say is;
A website will help you to clearly state who you are, what you do, how your product or service will be beneficial for others, and as a result what you will get, of course, sales, and revenue! So, if it is a source of getting sales, who wants to ignore it? On the other hand, a website that has a digital website can definitely earn more than a business that doesn't because it has an opportunity to grab more potential and an effective market.
Remember, it's true that with the help of a website, you can increase your sales, but you also need to remember that a user will decide in just a few seconds whether he should navigate the website or not. In this regard, the most important factor that will potentially contribute a lot to the decision will be the website design. That's why you need to focus a lot on it and make sure to choose attractive colour schemes for your website with a minimalistic design approach.
3- 24/7 customer support:
One of the most important reasons for creating a website is that you can provide 24/7 customer support. Like in a physical business you don't have this opportunity and you will be available for only a few hours but having a website is something that provides you an opportunity to connect with your customer anytime. Means your customer can take their queries to you at any time.
Now you might wonder how you could connect with your customer even 24/7. Well, it's possible with the help of a chatbot. A chatBot is an AI tool that will help you to connect with your customers through automotive conversation. Even some of your customers can get answered through FAQs – the most common way. Just like if you had tried to customize your FB chat, it works the same. You just need some kind of instruction and it will be good to go. Though they are not perfect enough and still need a human assistant with this you can still get good results.
Sounds fair enough, Right! Let's move on
4- Growth opportunities:
Since we are talking about the reasons and importance of why a website is important, then how it could be possible not to include the factor of growth.
With the help of the website, you have unlimited opportunities to sell to a wide range of people. Also, there is no limit or boundary you can even send your products to the whole country. And when your brand will start getting enough revenue and traffic with awareness you can even expand your business to the international market too.
In a physical business, you will remain accessible to a specific area or radius. But, having an online business will let you expand your business without hassle. So, another important benefit of having a website is that it will increase your visibility. As a result, you will get more growth opportunities in the national or international market.
5- Exposure to digital marketing:
Yep! The exposure of digital marketing, as we all know digital marketing is the most efficient and cost-effective way to market your business. This means you don't have to go anywhere; you don't have to spend thousands of dollars on expensive billboards which don't even generate sales. Just show your ad copy to the targeted audience and see the magic. And to gain maximum benefit from it, it's always recommended to hire a professional.
Digital marketing is a broad term that includes SEO (Search engine optimization), SEM (search engine marketing), or PPC (pay-per-click). Now, it completely depends on you which one you choose. But one thing for sure is that digital marketing will play a vital role in expanding your business.
6- 24/7 online
One of the major benefits and reasons why a website is important and for which you should also create a website is the 24/7 availability. People can access your website from anywhere or anytime. Unlike any other physical business, your website is not bound to some specific hours. It will remain open for 24 hours and your users can take potential advantage of this available from any part of the world.
Moreover, with the help of a website, you were also creating comfort for your targeted audience to shop in the comfort of their home. This will ultimately lead you towards better sales and even a huge exposure in sales.
7- source of information:
A website can be a source of information for your customers. For this, you can simply create a blog page on your website to let the user know about your brand products or services. Moreover, in this digital world users prefer to listen to the product or services they are about to buy. So, having a business will let you introduce yourself and your products to potential customers and clients.
 Your business doesn't matter; you can still create your website and educate your user. Where you can create buying guides, product recommendations, and pros and cons of a certain product and can apply much more content ideas for the website. This will also create your worth in the market, and you will also be considered a reliable source to gather information. Not only this, but with the help of a newsletter, you will also get returning and loyal customers.
8- Cost-effective:
Suppose you don't have enough resources or income streams to start a physical business, as it's much more challenging to have a physical business. The cost of a physical business would include furniture, fixtures, employees, interior, and much more. Meanwhile, to start an online business, you only need a website.
With the help of various CMS systems, you can create your website without knowing the coding. That's why the cost remains less as compared to the in-house business.
9- Ease of Access:
If you still wonder why a website is important? Here is our one-line answer to it, which is "due to ease of access." Yes, it is the ease of access for creating a website. With the help of a website, your business will remain available with just a few clicks.
So, whether you create local listings, GMB, or list your site on various directories or yellow pages, your website will be accessible to many users seeking it. Whenever your user needs to purchase something, they will land on your website or webpage and start looking for their need.
Types Of a Website:
After reading that, you might get concerned about how many types of websites you can create. Well, you have tons of opportunities to explore around like you can create services or products related, informational or affiliate, or even a website for your organization or educational institute.
If you are still confused, let's have a look at some of the most important types of websites.
Informational sites – the sole purpose of such sites is to provide information to their end user. It could be a blog type in which you write something which provides value to the reader.
Entertainment sites – of course, you can also create that one, and the sole purpose of such sites is to just entertain the end user.
News website – you often see websites for the news channels and it's pretty normal. But if you don't have any news channel you might think you can't create it but don't worry you can.
Person or brand site – when we are talking about the types of a website how we can forget them. Simply by creating such websites owners try to target their desired market to get leads.
Affiliate website – the most effective way to create value in your reader's mind. Most of the time people search for a specific product before they buy, Right! An affiliate market provides them with honest information about that product with links from which they can get.
You know what: the development of the World Wide Web (commonly known as WWW) was initiated in 1989 by Berner-Lee and his colleagues. Wow, 3 decades earlier than now.
Final verdict:
As it's often said the world is in our hands and the information is at our fingertips. Yep! That's true and probably you also knew that or maybe this makes you search for why a website is important. That's why most businesses have moved online, just because they understand the reason too early. And if you are not from some of those, don't worry you still have a chance and you should never ever miss a chance to target your potential customer with less cost.
Wrapping up the discussion with a note that in our opinion, everyone should get the website because they are so cost-effective and beneficial that you can't even think of it. Hope this guide has created some value for you, if yes, give thumbs up and do let me know your concerns – would love to answer.
Till Next!
The comment box and Contact Us page are waiting for you and your Suggestion.