What would you say; creating content is a big task, or creating the right strategy for it? Well, the content plan is always a daunting process, or you might even feel frustrated as you have to think of many factors. And this time, you heard of the content pillar strategy.
Being a blog owner or a content strategist, you are wondering what it is and how to create one. Of course, these are the questions for which you landed up there. So, without further ado, let's get into it.
What is Pillar Content Strategy?
As the name suggests, "Pillar" means the content that a user gets from multiple search engine pages; you will provide them in a single place.
Seems interesting, right? It's just because your user will find the answer to multiple questions on a single page, which is exciting for them and you. But, remember, in content pillar strategy, you only need to focus on a single and particular topic, and no need to go off the track and talk about random topics.
After knowing the definition of it, you might wonder how you can create one for your blog or clients. Don't worry; we are here to answer. Just stick with us till the end.
How to Create a Pillar Content Strategy?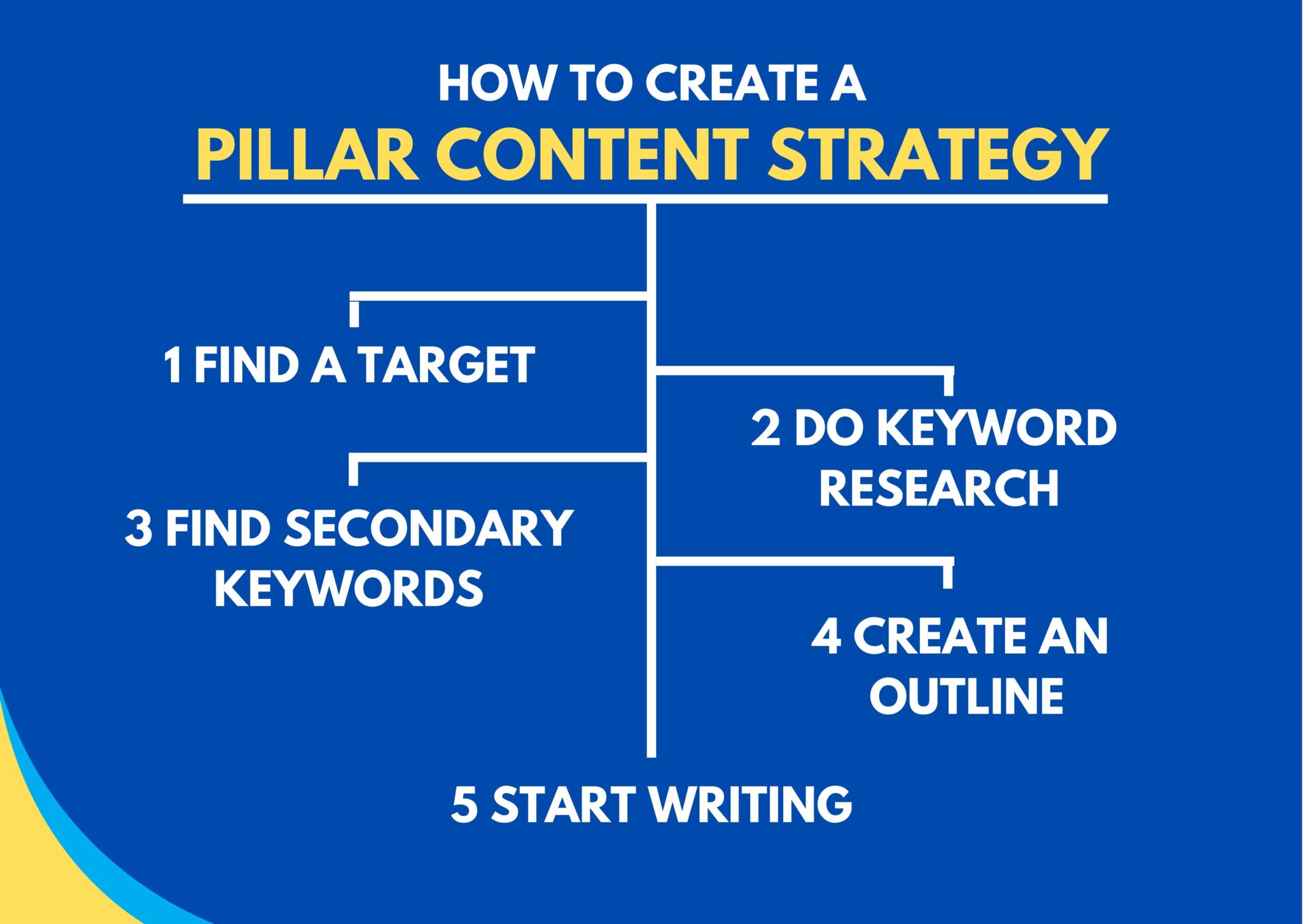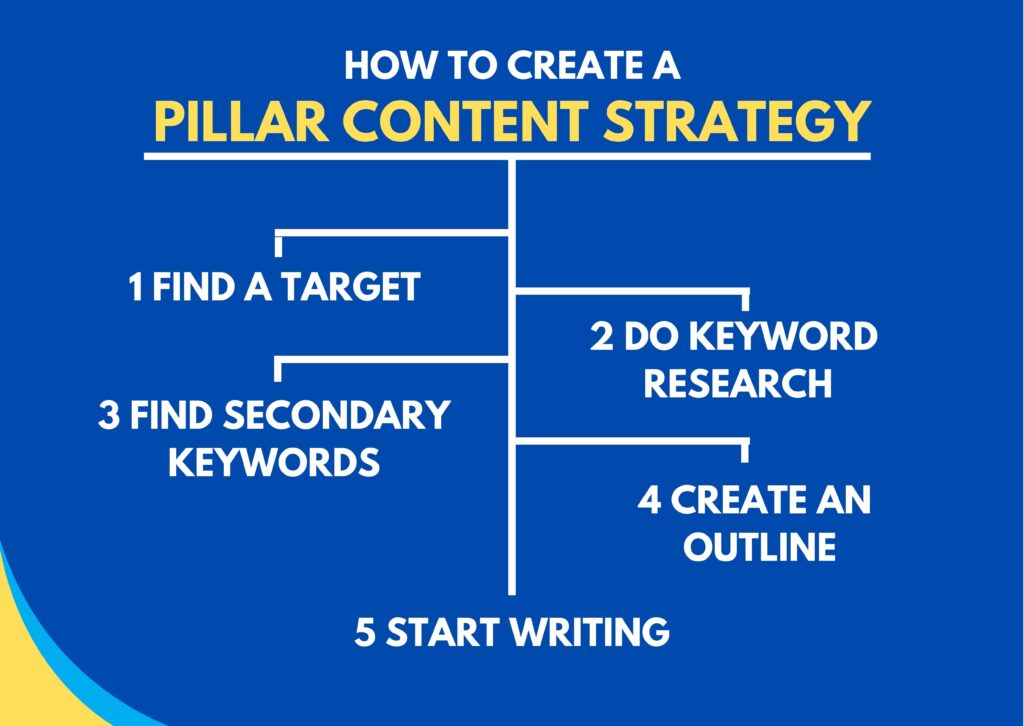 So, here is our step-by-step guide for how you can create a pillar content strategy.
1- Find a target:
The first and foremost step you need to take is to find your target market and audience. What they are facing, and how you can play your vital part in meeting their needs.
It is the main part of creating a strategy, as your user will find most of his answers there. And finding a target doesn't mean finding your audience. It also includes searching for a topic based on which you will build this.
Well, for a new blog, you can create it easily – based on the research. What if you already have a blog? Here we recommend analyzing your website page ranking among the first 2 to 3 pages and finding a pillar between them that will work.
2- Do Keyword Research:
You find a topic, target market, audience, and everything you need to find relevant keywords. Yes! Because your main focus is to create content on multiple topics won't focus on one; that's why you need to build a cluster of keywords on that topic.
This is the most important step to get successful and creating a helpful comprehensive guide. And to find these, you can analyze the competitor sites to find which keywords they are using, then create creativity in yours and find a better keyword to target.
Moreover, adding long tail keywords will give you the maximum boost of it.
3- Find Secondary keywords:
Now you have shortlisted the keywords you will target, what next? Should you start writing the content? No, it's not over yet, and you still have to do a lot. That's why find some secondary or supporting keywords that will also be known as the subtopics.
Finding subtopics would also be effective in linking some other pages with the content, as the internal linking of those blogs would increase their worth.
4- Create an outline:
It's time to create an outline for your pillar content; it doesn't mean randomly putting your keywords in the headings or subheadings. It means creating a content structure in such a way that will be helpful for the user to find the answers as soon as possible.
You need to prioritize your content; what matters most is to write first. You can also use words or numbers in headings as they compel a reader. We recommend not writing longer heading – keeping the maximum length of 50 to 60 is enough.
5- Start writing:
Now, the maximum of your work gets done. Start writing the content and start getting the maximum benefits out of it.
Make sure to present a masterpiece in front of the reader to ensure what they want to read. As you will give them detailed information, roaming around and not talking about the main problem is avoidable.
Once you create the content, you must keep it up to date because the industry changes, time changes, and you can't stick to old information. Keep updating your content for effective strategy implementation.
FAQ
What is the difference between pillar content and cluster pages?
Pillar content mainly focuses on putting all your information on a single page so that the user would get the answer more effectively.
Meanwhile, a topic cluster is a completely different thing where a collection of subtopics, including longer tail keywords, are included in a post to optimize your content better.  
Is pillar content strategy effective for SEO?
Of course, creating content is not enough nowadays, and if you have a pillar with multiple sub-topics covered in it, it will work.
Moreover, the chances of losing ranking are lesser because you will get traffic through multiple resources and keywords.
Who can use a pillar content strategy?
It depends on your blog type, whether you have an authority site, personal blog, or niche based. All these 3 types need pillar contents but the strategy of making it different in all. If you don't know how to do it, you can hire an SEO expert or a content marketing strategist.
How many pillar content strategies do you need to have?
It depends on your goal objective and various market factors, but it doesn't mean creating more will be worth more. The only thing which would be worthwhile is a well-rounded content pillar. That's it! Because bigger is not always better, quality and user experience also matter.
The Bottom Line:
In a nutshell, creating a pillar content strategy is undoubtedly a good practice, but only when used effectively and to use it more effectively, all you have to do is
Search your product, audience, and market
Find a cluster of topics and write it in a way that the user is going to use it for a lifetime (of course, slight content updates are always there)
Effective content always urges a reader to bookmark it so they would come and explore your page to get the answer whenever needed. With that, creating pillar content doesn't only include a written form; you can also use infographics, pictures, videos, or anything that could create ease in your life and help you stand out from the competitors.
Indeed, it would take time, but it would be worth it once done!