Most of the time, beginners do not give importance to external linking, or they might get confused about which purpose the external link used for.
So, if you are a beginner and don't want to regret it later on, read our quick guide on for which purpose external links are used and their importance.
Let's get a straight dive into it.
What is an External Link?
Here is the first come. First, an external link which is commonly known as an outbound link means redirecting a specific page to a different URL
For example;
If you are reading any article and a reference is given in it, which redirects to a specific changed URL; here it is: Importance of backlinking if you'll click on the blue text you can read another article by a different website
It means if a link goes away from your site to another, it will be referred to as an External link. So, what did you get? A clear difference in the site URL.
Here is how an external link looks like
<a href="http://www.domain.com/">Your text (anchor text) goes here</a>
An External Link is used for?
At first, it might seem useless, and you might wonder, How could I?
No, you're mistaken, and of course, you understand this dilemma but are not clear about it. That's why you landed here.
So, let's discuss for which purpose external links are used.
Whenever you want to show your reader that you are not an expert in this field, you have got the data from there you can also read it.
Most importantly, quoting data or arguments will increase the user's trustworthiness.
Of course, if you are using third-party content, how can you forget to mention them?
One of the primary reasons you don't want to forget is that an external link builds a relationship with other site owners and will ultimately expand your audience.
An external link is used to show the reader that you care about him, and in this way, you are creating your value.
An external link will play an essential role in the organic results. Yep, it will help you to improve site results.
It would be proof that you have quality content.
will ultimately give benefit from influencing SEO
Good to Know; remember there is a massive difference between being referred to and referencing someone.

Precautions of a Good External Link:
Nowadays, it's a common myth that an external link will hurt your ranking; no, they aren't, but if you misuse it, it could hurt your site.
So, before doing any external linking to your site, let's find out some precautions of an excellent external link
An external link should always be relevant; irrelevant links will hurt your SEO and ranking.
If someone is referring to your blog, it will ultimately help you increase the DA (Domain Authority).
Always use an anchor text wisely as it can perform wonders for your site; never create an irrelevant Anchor text.
Tip; Only link to a reputable source by keeping the user experience in mind, as it will help you to increase DA.
To Up-Wrap; External Links are Used for
External links are highly beneficial as it creates trustworthiness in the reader's mind.
But remember;
There are two types of external links; no follow and do follow
No, follow links – gives a signal to the crawler that he will not follow that link
Do follow links – give a call to the crawler so that he can follow this specific link
Avoid spam links as they will hurt your site.
Details about NO Follow and DO Follow are here
When you will click on the Linking buttons in the WordPress post editor this pop-up will appear so you can see 2 central options about No follow and Do follow.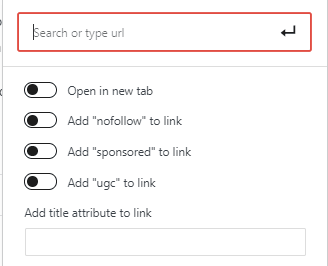 Excessive use of no-follow or do-follow linking is not a good practice. So, try to be relevant and balanced. And by keeping these considerations in mind, you will get an ultimate boom in this digital world.
I hope this guide has created some value in yours; the team tipsoont with their contact us page is waiting for your queries and suggestions.
Till Next!
The comment box and Contact Us page are waiting for you and your Suggestion.