Want to know the website vs landing page? And when to use them. So, roll up your sleeves before reading because here we have a complete guide.
Simply;
A landing page is a type of web page that is helpful for the customers to take quick actions or decisions, which will ultimately help to get faster and easier conversions.
Meanwhile, a website is just like a store where a user will roam around in search of a perfect product or a piece of information – it depends on his purpose.
Yep, that's it, but the detail is much trickier, which would be best to know. So, without further ado, let's quickly dive into it.
Website vs Landing Page
Here the first comes first, the most wanted question Webpage vs website by any beginner but the most important one because you can even put your business to a miserable point without knowing the difference.
And of course, you don't want to do this; that's why you are here.
Website:
A website is a collection of web pages connected with internal linking and hosted under a single domain.
For example, an eCommerce site or a blog site are perfect examples of it where we have different web pages, like a homepage, contact us page, or a blog page, that are gathered under a single domain name.
To understand it Briefly you should Go for Post Requirements of website to Get in touch with the Basic Essentials of websites.
Landing page:
A landing page is a simple page created with the intent to sell a single product where the user will have no distraction.
In digital marketing, landing pages are also known as lead capture pages because they are designed to get customer intention and convert them into the customer that will ultimately end up in the sale.
For example, signup or coupon pages are perfect examples of it.
Purposes Website vs landing page
For a clear understanding of the difference between these two, let's have a closer look at the purpose.
A website always comes up with a purpose to inform your customer about different products or services. However, it is a collection of other pages where every page will talk about something different and unique.
Meanwhile, a landing page comes up with a purpose to identify and engage the users of specific interest. However, the main focus is to target a particular area of interest that will end up on a targeted marketing tactic.
Key Differences Between a Website and a Landing page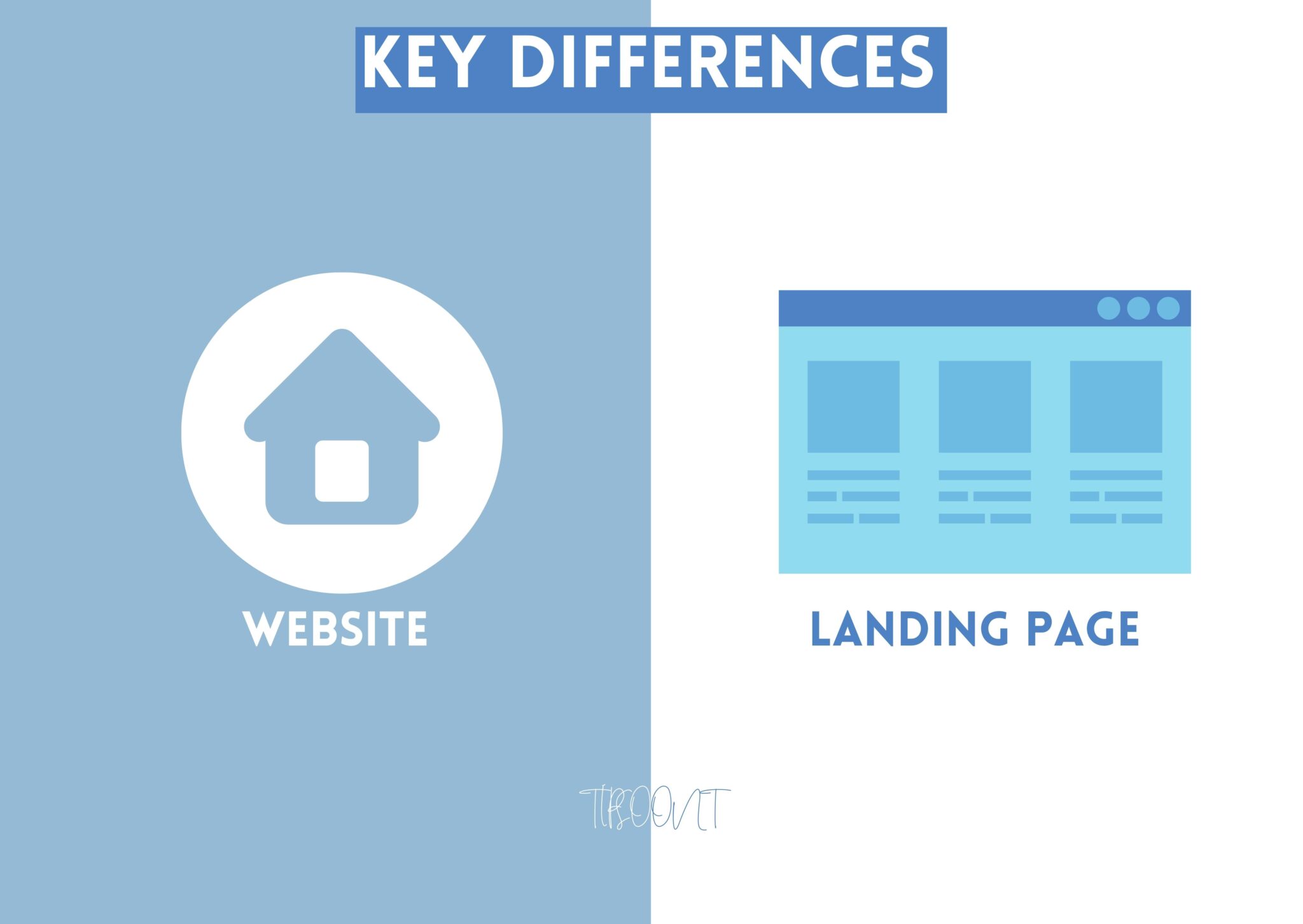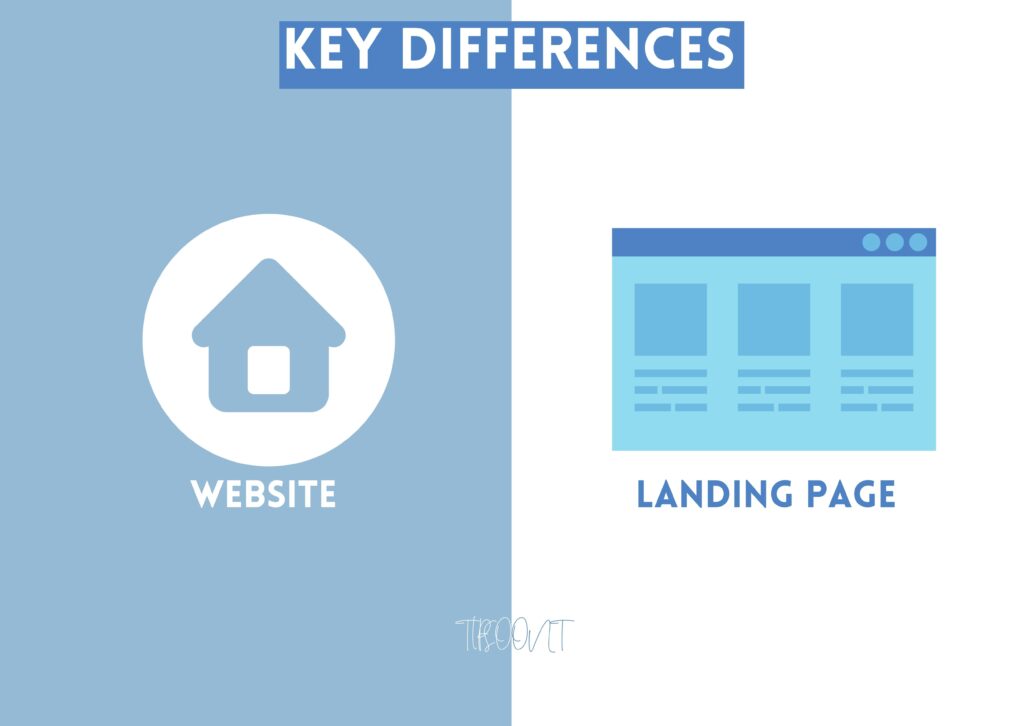 Here is your most awaited question. So, despite beating about the bush, let's get a straight dive into it.
It all starts with a goal, Right? And both have different plans because their purpose is different from each other.
A website goal is to provide information or to sell different products under the same or different niches; meanwhile, a landing page goal is to sell a specific product through PPC campaigns.
The main fundamental difference that would differentiate them strongly is the traffic source. Yep! Both have different sources to get traffic.
A website will mainly get traffic through organic ways or SEO; meanwhile, a landing page will get traffic through ads or PPC campaigns.
How the user will navigate with both of them is something unshakable. Because both have different types of content, design, purposes, and goals, users will act differently for each.
A website is accessible with all pages for its end users; meanwhile, a landing page will have limited navigation of a single page.
The Crawler or Spider will also act differently for both.
For example, on your landing page, you can use the no index command in your Robot.txt file, where you will disallow the spider not to crawl your pages. Meanwhile, in a website, your ultimate purpose is to get organic traffic as much as possible; that's why you can allow the spider to crawl your site and make it visible to the digital world.
Another essential difference is a CTA call to action button.
You might wonder that a website doesn't have any call to action, but you're mistaken both have a CTA, but the way of presenting could be different because your content copy without a CTA is nothing more than a piece of information.
Which one to use; website vs landing page
The question in everybody's mind is which one to choose, but no one wants to hear the truth because they need a solution.
But, as you are reading this, it will be good to know that both are just like siblings or cousins but with different objectives. Yep, that is the main difference that will lead you towards a specific decision.
Since you are asking this, your concern shouldn't be which one to choose; It should be when and what to use.
So, let's explore together when to use a website or a landing page.
When to use a website?
It's pretty simple to understand when you will use a website.
Organic SEO – if you want organic traffic benefits and to grow your business or blog without any paid campaign, go for a website.
Brand building – websites are the primary source while building a brand. It would help you to reach a broader audience with a universal message.
Social media sharing – social media could be an effective tool for massive exposure to your brand. So, if you want to make your blog easily accessible all over the internet with lots of sharing options, go for a website.
If you have these objectives or want to achieve these goals, you should go with a website.
When to use a landing page?
Meanwhile, it's not difficult to know when you will use a landing page simply if your objectives are these; better to choose a landing page rather than a site.
PPC campaign – If you want to create a PPC campaign with targeted messages, you should go for a landing page as it is helpful to get too much conversion with an insightful message.
Email list – Most importantly, if you want to build your email list, go with a landing page. You have various options to create ones like signups, event registrations, coupons, or any deal offered; the ultimate purpose of the user is to get access with the help of a signup form, and you will also get their information.
Grab attention – Landing pages are one of the leading sources to grab the attention of people having a specific interest, desire, or purpose.
Don't hesitate to choose a landing page if your purpose is the same as stated above.
You know what; most businesses also use landing pages for A/B testing. Like they would prefer to run a campaign simultaneously but with two different purposes, to ensure which one is getting more powerful.
Final Verdict:
Well, most of the time, business owners prefer to have both, but you must prioritize your goal to choose which one you should get. And many businesses don't understand the importance of it; that's why they end up with a miserable plan.
So, to wrap up;
if you want to launch a single product or want to have some digital presence; go with a landing page
On the other hand, if your purpose is to create an eCommerce store where you want multiple pages to allow ending users to navigate with different sections, go with a website.
Hopefully, you got the answer, and now you will be ready to get things done.
Good luck!