A website or Blog is the Most favorite Source Of Passive Income nowadays everyone wants to own a site SO 5 Simple Steps to creating a website….
There was a time when people learned coding, and it was much more challenging to create a site, but now building a website in this digital world is no more rocket science because the modern CMS system has created ease and made this daunting process just a few steps away.
So, roll up your sleeves because, in this ultimate guide, we have everything you need to know, from choosing a domain to creating a site.
Without further ado, let's get into it.
Steps in Creating a Website:
Creating a site might seem daunting, but it's pretty easy and not as difficult as it looks, especially if you know how to make it. But if you are a beginner, it could take time, and in this situation, you do not need to panic or get frustrated, as anyone can create a website by following some simple and easy steps.
Not too Tricky to understand the basic requirements of the website Even You can send everything to your Web Developer He'll manage OR use the Contact Page You can hire our Team too.
If you are a beginner confused by the various terms used, you don't need to worry and stick to the end here, as we will elaborate it to you individually.
(Step 1) Choose niche:
First of all, you need to choose a niche for your site.
Choosing a niche means figuring out what type of website you want to create and which purpose it will have.
Most of the time, people don't consider it a first step, but here, we strongly recommend that you should start this process by figuring out the answer to these fundamental questions.
What will be the purpose of your site
what you want to achieve from it
either it will be a blogging site or an eCommerce
And figuring out the answer to these fundamental questions could save you from later regret. And suppose you, as a beginner, ignore it. In that case, you might have to face problems, and the number one would be upgrading hosting because hosting package requirements for an eCommerce site will be completely different from blogging and affiliate sites. As in an eCommerce website, you will have lots of product pages, and the blog must have lots of content with videos or images.
So, figuring out the whole process and finding the answer before creating depends on your niche, which you can't ignore.
(Step 2) Choose a domain:
Yes, choosing a domain; is the second most crucial step, which needs much more attention and research.
And if you are a beginner worried about what a domain is and how you can come up with a perfect one, Wait; you don't need to Google it; we will explain it to you.
What is a domain?
A domain is a part of the URL (unique resource locator) that will take the user to your website, where the URL structure will consist of "www, domain name, and the extension."
For example, www.facebook.com, here "www" is for "world wide web," and "Facebook" will be your "domain name," and ".com" will be an "extension"
Simply put, you can say that the domain is your site's address that people will type in the browser to visit. Simple as that!
Good to know: Urged to use HTTPS instead of HTTP, meaning your site must be secure with an SSL certificate. And, of course, nobody wants to use an insecure website.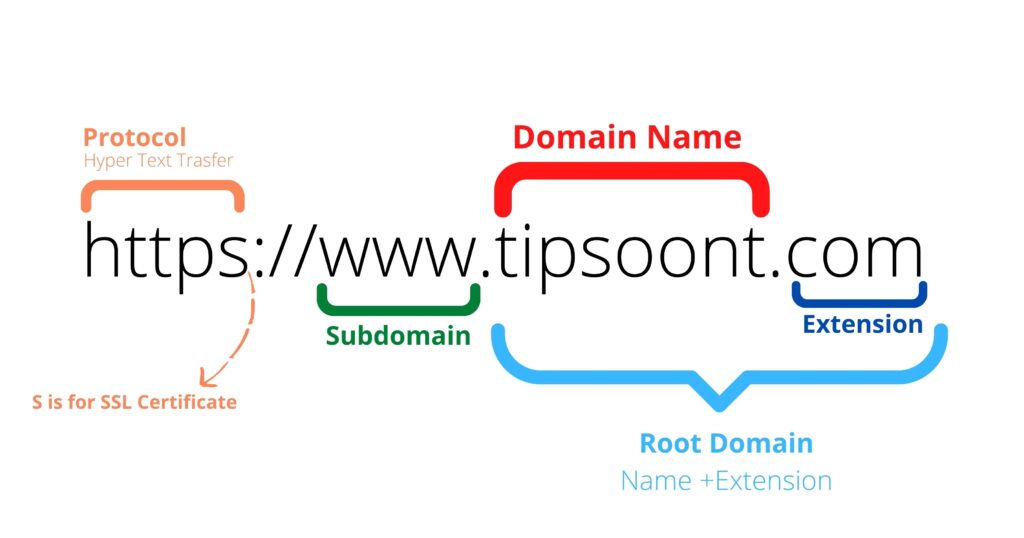 How to choose a good domain name?
The next most frequent question that will come to your mind will be how you can develop a good domain name.
Here, it would help if you made sure
Your domain name is short and straightforward.
You can also include keywords in your domain name – a standard and good SEO practice.
Urged to avoid the use of hyphens in your domain name.
You must create some uniqueness and ensure the domain name is not previously used.
Avoid using double letters in it.
Your domain name should be brandable and should serve a purpose.
Of course, your domain name is your brand name, and you can't choose any of the random words. That's why it's urged to give a read to our detailed guide on How to choose a domain name so that you would be able to come up with a perfect one by knowing all the dos and don'ts.
You can also use the name generator tool if you are not getting any good ideas.
Check the availability:
Now, the final step in choosing a domain name is to check whether it is available or not. You can check the availability from where you want to buy. It could be Bluehost, GoDaddy, or anyone else.
Staying with the .com extension is always recommended, but in case it's not available, you should use .org, co, and .net domains only.
Good to know: As we had suggested, it should be unique and not previously used; check it as different tools are available, but the best one is webarchive.org, where you can quickly check if your domain name is clean or not.
And if it's available, you are good to go with the next step.
(Step 3) Choose a hosting:
Web hosting is a web service that would help you to make your site available on the internet, and for sure, you can't choose any useless hosting that is not capable enough to hold your site data. That's why you have to be careful while picking.

While choosing a web hosting:
consider uptime
site speed
customer service – ideally, 24/7 should be available
should not be any setup fee there
Able to meet different needs
So, worry-free hosting should be your priority, and if you are planning to buy cheap hosting, keep in mind that saving some dollars would not be worth it, and you will regret it.
(Step 3) Choose a CMS:
You can edit your website from the domain through CMS (content management system). You must log in and start customizing your layout, settings, and content using pre-built templates. So, you don't need to learn any coding.
Many different CMS (content management systems) are available and used by many, but finding which one you will get is the most difficult.
You don't need to worry about it as you are here because we will answer your concerns right there. Just keep reading.
WordPress:
You can easily understand the power of WordPress from these stats. More than 45% of websites use WordPress. Boom! That's a huge number that is increasing its worth daily.
Widely used because
It is compelling and easy to use
the best source for blogging
You can operate it without having any tech background.
It's good that there are more than 57000 plugins in WordPress that are pretty helpful but not all the time as some of them can get hacked, and most of them could easily affect the site speed.
Webflow:
Webflow is not only a CMS but also a website-building platform where you can easily create a fully customized site. And the good news is you can create a 3-page website for free of cost, and to create more pages, you need to buy hosting. Well, it's pretty reasonable; by building 3 pages, you can quickly get to know whether it's cost-effective for you or not.
you can create your customized animation here
With that, you can also easily preview how your site will look after building.
You must log in and start making without getting tension from different themes, plugins, and hosting.
Every platform has a drawback, and to operate webflow, knowing java and CSS is a must compared to others.
Must read out our detailed comparison of webflow vs. WordPress.
(Step 4) start creating:
Almost there, now you are done with all the basic steps and can start creating your site. Once done with all the steps mentioned above, it will be easy for you to create a website. So, make sure to fulfill them First.
You can create your site considering these 3 simple and critical points.
As WordPress is the most famous and widely used CMS, we have taken it as an example. Without further ado, let's jump into it.
Install the WordPress
Install theme
Get necessary plugins
Install the WordPress:
Firstly you need to install WordPress to access the dashboard. Don't worry. It's not that difficult; it would take only a few clicks.
All you need to do is log in to your hosting account and look for the website builder section, and here you will find an option to install WordPress.
Yep! Click on it and start installing WordPress for free.
Install a theme:
Installing a theme is essential to give your blog or site a customized look so that your website looks different from others.
You can't use the same theme for each type of website, though there are various websites, and every site serves a specific purpose, which means the option would work differently. That theme, which would work for one, might not for the other. So, you have to be careful.
If you feel stuck in choosing a theme, you can Google it, but we strongly recommend trying theme forest as plenty of options are available. Though some others are also available, you can try them.
Here you will sort themes by category, tag, price, etc., and choose the best fit. It is always better to do a preview of the theme you are planning to get.
Here you might think that why not a free theme? Yes, you can also use a free theme, but remember, a premium theme could give you a better support system than a free one, and of course, support is a compulsion for a beginner.
To install a theme on WordPress:
you need to access the dashboard
then click Appearance
Here you will get thousands of free articles to use
if you find something relevant, click on the activate and publish
That's it; you will be good to go with just a few clicks. Although you can also use a free version that you can change later on, a theme change could affect your site's SEO. So, it's always better and recommends the best available option.
Install necessary plugins:
WordPress has more than 57000 plugins available that are pretty helpful to use. Here we have stated the top 5 must-have plugins for your site.
SEO Plugins – All in one, Yoast, or rank math, it doesn't matter which one you use, but having an SEO plugin could help you optimize your site content and pages.
WP-optimizer – Highly recommended and helpful in removing extensive and unimportant databases. This plugin would allow you to delete unnecessary dell content and spam comments so that you can see what's important.
Elementor – An exquisite edition in this plugin list that would help you craft designs for your pages. Yes, you don't need to be a web developer, as elementor will help you to do that with simple drag and drop.
W3 total cache – a plugin to help you improve speed; though it's not as much help as you can with WP rocket, still helpful. This would allow you to ensure your site is fast and reliable and the loading time of your site is ok.
WP forms – as the name suggests, this will help you to create a contact form for your site. as the different contact, order, email subscription, or different kinds of forms are essential for your site, and this plugin would help you to create it with a simple drag and drop function.
(Step 5) Miscellaneous:
Now it's time to fill in some various steps that are equally important entirely; without these, your site would be incomplete.
You need to integrate Google analytics with your site so that you would be able to get your site statistics and performance. If you are a beginner unsure of what wonders Google analytics could perform for your business, read our guide on how a company can benefit from using analytics. Next, you need to create a marketing plan for your site, and this will start by creating your brand identity with a logo, brand kit, and copy of your site. These essentials will let your customers know you.
Now, you can start uploading your content, but here you need to ensure that your random content is not worth it. You need to plan your content before posting it to get the ultimate benefits of it.
To Up-Wrap the Steps in Creating a Website:
At first, these steps in creating a website might seem daunting, but once you get used to it or find the right approach, you will know that it's not that difficult.
If you have some queries or find yourself somewhere frustrated, take a short break and google the problem you are facing; if it doesn't work, do write in the comment section. We would love to be there.
Enjoy reading this guide? Subscribe to our newsletter for future updates.
Till Next!