Choosing a right domain name that resonates with your brand needs is essential because your domain name is your brand name; that's why you cannot take it for granted. You have to take it seriously and think carefully about which will suit your business and which one you should get. Some people gets confused easily and wonder how to choose a domain name that sells. Well, it's a most common concern which can be overcome as we have a detailed guide on it.
So, here we have some tips for you that will surely help you to come up with a good domain name because the domain is one of the main parts of the Website and to make the Website look professional you must need to consider all these parts. By the end of this post we are pretty much sure that you will be able to choose a right domain name considering all the dos and don'ts.
So, without further ado, let's get into it.
What is a Domain Name?
Since we are talking about domain names, what if you are a beginner and want to know what does actually domain name is? So, here we have a quick answer to it.
Many websites are available on the internet and each one has a unique and identity which is known as their domain name. For example, your house has a specific home and street number; right? So, the same goes with a website where the domain name is the address of your site which should be unique, simple enough to understand the business goals.
Where does the domain name of a website primarily sit?
Before digging in let us make it clear to you where does the domain name of a website primarily sit. A beginner could quickly get confused about it. So, if you are also a beginner, let us clarify it.
Simply stating;
Domain name exists in the URL. For example "https://www.facebook.com" is a URL of a website where "facebook" is it's domain name and .com is the extension used for it. Remember, your domain name is your websites unique identity which will not be used by anyone in the world. For your ease and for clear understanding, we had also attached an images stating an example below.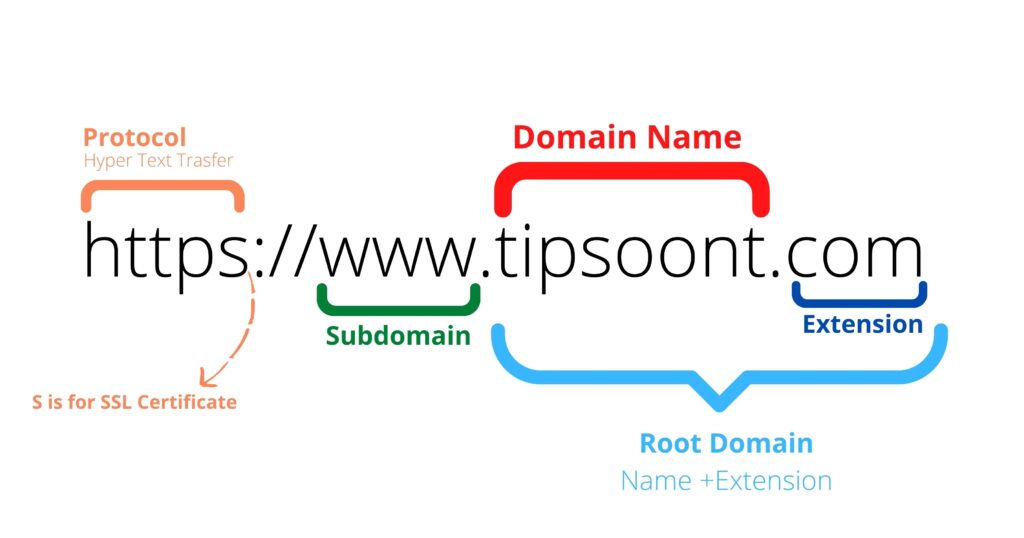 Simple as that! Let's move on.
Structure Of a Domain Name:
There could be different domain names, and knowing what a domain name is and where it primarily sits would not be enough. That's why, here are the brief details for how many types or parts a domain name can have.
Top-level domain – commonly referred to as TLD, which means a domain name on the right side of the last dot. Just like .com, .org, .net are his examples.
Country code top-level domains are used to distinguish between countries and locations. Just like.The .uk, .us is his example.
A second-level domain. Anyting that presents the company or brand name is known as the second-level domain name. It is also called as SLD, a name that comes before the TLD. Just like Tipsoont is the SLD and .com is the TLD.
The third-level domain name comes before the SLD name, used to show a specific page's identity or for content separation.
Now, the domain structure is pretty much clear to you. So let's find those dos and don'ts that could help you choose a domain name.
How to Choose a Domain Name – The Do's and Don'ts
There are 332.4 million sites available all over the internet; people create and sell different websites yearly and daily, but only a few of them would exist in users' minds. The site that will retain the reader's mind must have a common point: its remarkable and unique domain name. So, if you want to stand out from the crowd, work on these simple dos and don'ts. It might seem simple to you, but these could help you to land a perfect domain name.
Top 6 do's While Choosing a Domain Name:
1-Simple and short:
First, a domain name should be short and straightforward because a long term would be hard to remember. Suppose a domain have used the complicated and uncommon words. This will definitely make it hard to read. That's why you need to make sure to create as much ease as possible for the end user. And the best possible way in this regard is to keep your domain name short, simple and straightforward.
Remember, keeping it short and simple is the first criteria which include various factors from short domain name to use of spellings. That's why it should be considered on priority bases otherwise your reader will be more likely to loose the search.
2- Easy to pronounce:
Pronunciation also plays an important role and while you were confused how to choose a domain name. If you have a domain name which is easy to pronounce for the common people; your chances for the additional branding will increase. Suppose, someone visited your site and he had also read the name of your site but it was too difficult to pronounce that he just forget after few days. Meanwhile, if you choose an easy to prounounce domain name; it will make be easier for your users to remember it. In result they will definitely keep visiting your site.
So, make sure your domain name is easy to pronounce, and there should not be any ambiguity in spellings.
3- Use one or two keywords:
Adding keywords in your domain is also a tactic nowadays used by many SEO's. It is helpful to boost SEO. This is a common practice and used by money. Moreover, if you want to target a specific area or location then you can also it in your domain name or extension.
4- Brandable:
With all these dos, your domain name should be brandable because you are getting a domain name and building your brand recognition. That's why it should be quickly brandable and should not be previously used. Sometimes people prefer to use EMD (exact match domain) for their niche, but later, they regret not having a good branding opportunity.
So, your domain name should not be too broad or too short because you will make your domain name your identity in the long run. That's why there must be the use of your main keyword in the domain name with the unique point of brandability.
5- Use .com extension:
Another key component which you need to consider is by staying with the .com domain. .Though different opportunities are available, .com is still more powerful. We urged to go with a .com domain name, but in case it's not available, try to use .org, .net, and .co domains only. Moreover, if you wanrt to target a specific country then using a top-level domain with country code (.uk, .us. etc) is also a best practice. Suppose, you had used a keyword in your domain with an extension of targeted country; how it will be? Yes, it will be a good ideas as it will also help you to perform best in SEO.
So, indeed you have various options to try while choosing an extension of your domain name but you need be careful that it should not make your brand unprofessional.
6- Purpose:
Last but not least, Make sure you are not coming up with a random domain name. That's why your domain name must serve the purpose of what has been created so that the user can quickly get an idea of your niche.
The don'ts While Choosing a Domain Name:
1-Avoid hyphens and double latters:
First of all, you should avoid the use of hyphens at any cost. Just imagine how the user will describe the hyphen and how he will remember exactly where he would have to put a hyphen. Consider "Facebook.com" as "Face-book.com" . Yeah, it's exhausting; that's why it is not recommended.
With that, make sure to avoid using double letters entirely because it would be difficult for a user to memorize which, where and what letters were repeated. So, the number one don't while choosing a domain name is "avoid heyphens and double letters".
2- Used and Generic:
Secondly, create uniqueness in your domain name and make sure any other person were not using it. To know this, you can use Webarchive.org, which could surely let you know in seconds.
Moreover, you don't need to be too generic, as the chances are your domain name will lose or shuffle with others. It should be memorable, but choosing too many common or generic words is always discouraged.
3- No ambiguity:
Last but least, there should be no ambiguity in your domain name which means avoiding using words like "too" or "to" because it create ambiguity. This would make it challenging to memorize which one to use.
So, Use a Strategic Approach:
Wrapping up the discussion with a note that nothing could be worse than choosing your domain which is your identity without doing proper research. And if you're doing this, you will surely regret it later.
Take some time, do some research, and if you feel stuck somewhere, use a domain name generator, but again, consider all the dos and don'ts stated above. Because it is nearly impossible to change a domain name once launched, it will cost you not only money and time but also your site's SEO.
Indeed, all you need to do is stay unique, specific, and on-brand. That's it!
If you enjoy giving it a read and are excited to read more like this, subscribe to our newsletter and get the unlimited Tips for free.
Till Next!