Do you want to sync products between sites or create another site but don't want to feel the hassle of product migration?
If so, you must know there are specific WordPress plugins or third-party tools available that can help you sync products between sites with minimal effort. 
For example, a few custom codes can synchronize product data. However, you need to be a more centric designer or developer to use this.
No more worries; we will discuss the best plugins to synch woocommerce products between sites in today's guide.
All you need is to stick with us till the end.
Best Plugins to Sync WooCommerce Products Between Sites:
Do you know Multisite is the built-in extension in WordPress, and by using it, you can manage multiple WooCommerce stores under one umbrella of WordPress?
Yes, doing so will put your life at ease.
So, let's dive deeper and find the best plugins for WooCommerce product stock sync.
WooCommerce API Product Sync:
WooCommerce API product sync plugin is one of the best sources to sync products between sites.
It has various options and will let you complete all necessary customization simultaneously. For example, linked products, attributes, inventory, general settings, variations, shipping, etc. In other words, these are additional functions you can perform using this plugin.
Furthermore, you can also perform bulk sync using this plugin. This makes it a proficient tool for those who manage multiple WooCommerce stores.
The WooComerce API Product Sync Plugin will cost you around $39 with free updates of 3 months.
Woo Multistore:
There are the most negligible chances of human error while using this Woo Multistore plugin.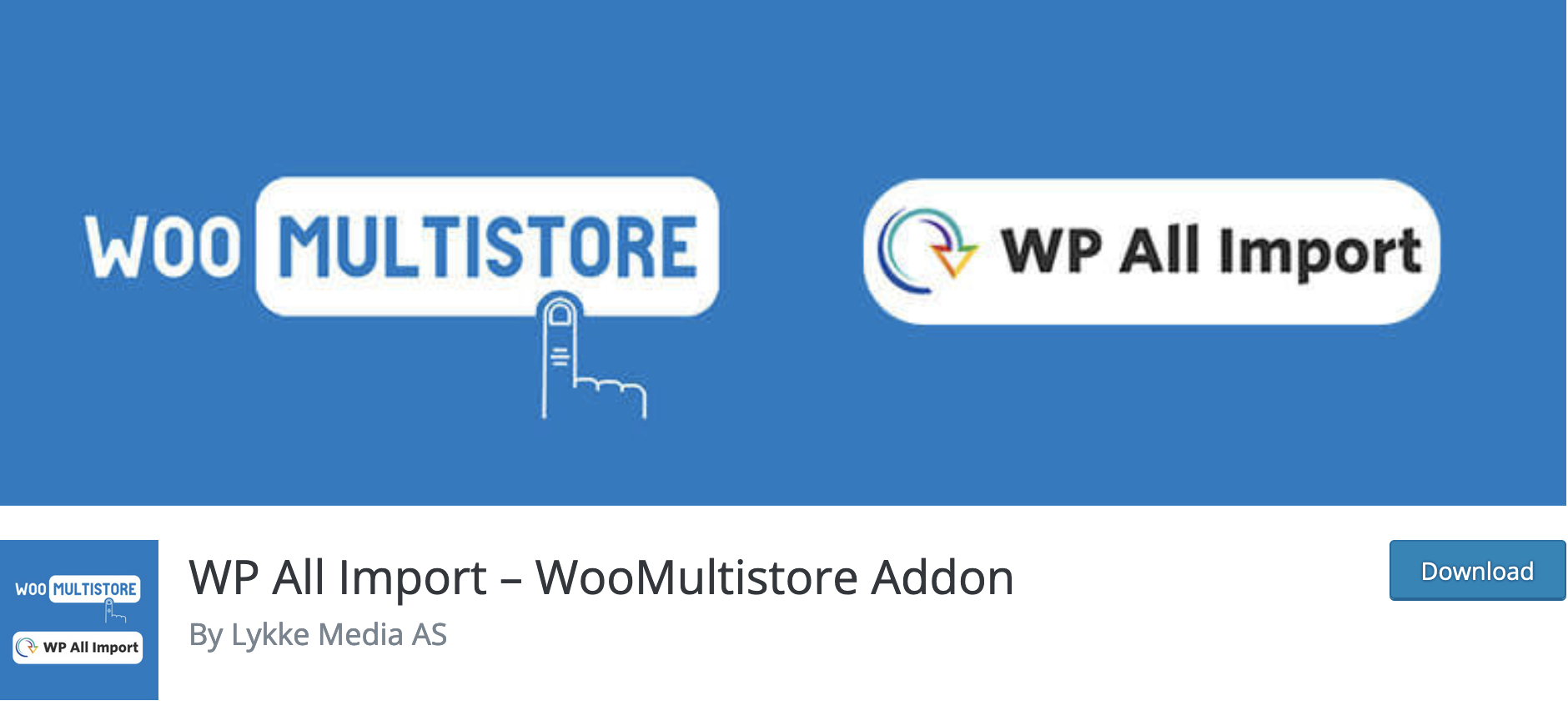 Woo Multistore is a feature-rich plugin that will let you perform multiple functions and save time. For example, it can automatically update or edit inventory if performed on one. Additionally, it also imports the customer orders of all sites on a single page.
Despite the product syncing, you can also sync product numbers, metadata, product descriptions, images, etc.
So, if you have more extensive inventories or orders and want to organize them in one place – Woo Multistore must be your choice. However, with a price tag of $199, you can get a single license and enjoy this robust tool.
WooCommerce Multisite Product Sync:
So, WooCommerce multisite product sync also allows you to sync products between sites. However, it allows you to sync simple products and affiliates, virtual, downloadable, media, custom labels, grouped, or external products.
Additionally, it will also let you sync new or updated products sync and auto-deletion products that get depleted.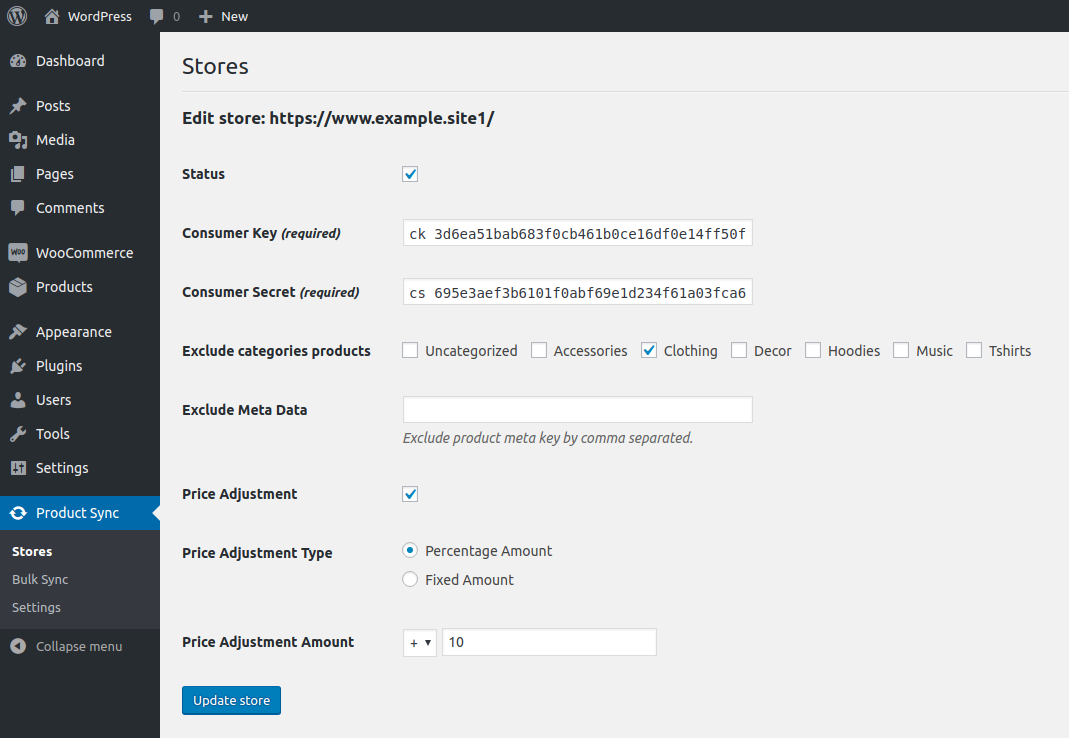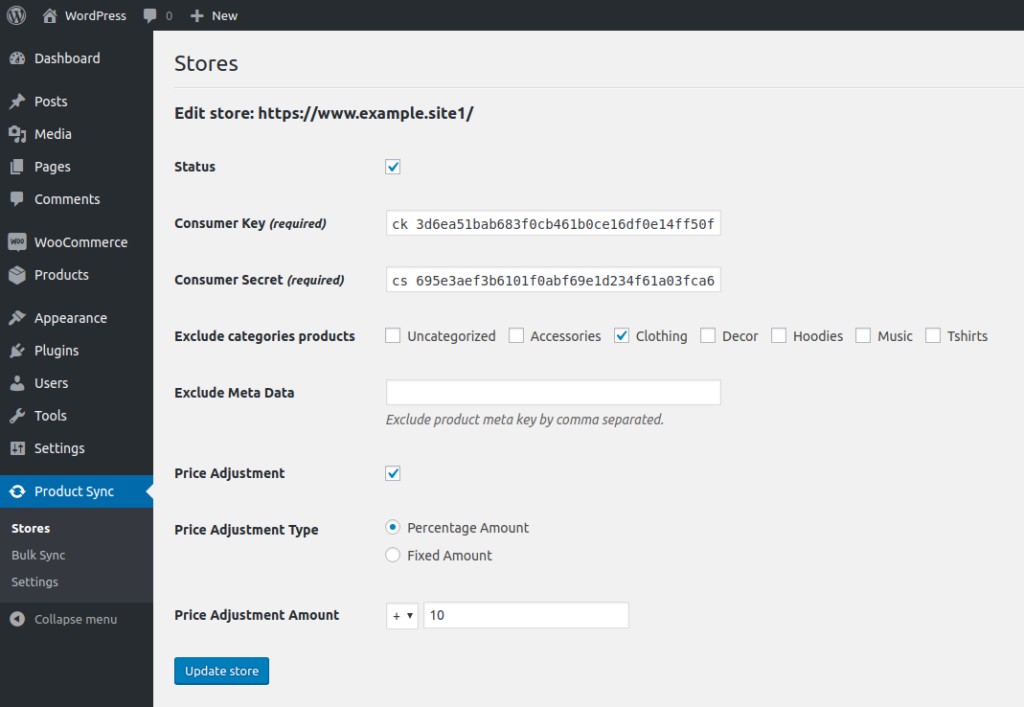 This plugin will also allow you to sync products with or without metadata.
If you want the automatic synchronization of products, you can get this plugin for $39 and 1-year updates.
WordPress Multisite Sync:
WordPress multisite sync is a plugin to not only sync products but also to sync your website or blog across multiple sites.
That's why you can sync or update product categories, pages, and post types or publish content.
Undoubtedly, it's a powerful tool to check site monetization opportunities. And it will cost you around $29.
Multisite Sync for WooCommerce:
As the name suggests, if you have multiple WooCommerce stores, product syncing with multiple stores is possible with multisite sync for the WooCommerce plugin.
It is a lightweight plugin to sync data across multiple sites. However, its version makes syncing other data, such as SKU or pricing, easier.
The language switcher will soon be added to the plugin, increasing its worth.
This plugin is not complicated as well. So, it would be worth giving a try.
How to Sync WooCommerce Products Between Sites?
Although several renowned plugins are available to sync woocommerce products between sites, it would not be possible for us to describe each.
However, the process remains the same for each.
Here is our quick guide to help you understand the process – the rest will remain the same.
First, install and activate any plugins mentioned on booth sites to initiate the process.
Next, configure the plugin settings and specify the data or products you want to sync.
Once you are done, the plugin will provide you with an API key – note it down.
Here, you need to connect those sites using the provided API key.
That's it; now, select the products you want to sync and start product synchronization.
The Bottom Line:
To wrap up the discussion, syncing woocommerce products between sites is straightforward.
All you need is to consider the best plugin to configure data. In this regard, above mentioned all plugins are good to go.
If you find any difficulties, use our Contact Us page and subscribe to our newsletter for more exquisite posts like this.
Till Next!