Generatepress is one of the best flexible themes for a blog, e-commerce, Portfolio, or even a services website. With its combination of the Generatepress plugin, you can perform a bunch of customization. So, undoubtedly it's worth trying, but confusion arose when you know that Generatepress is a fermium theme which means it's available in both premium and free versions. So, it's pretty oblivious to get confused and curious to know more about the Generatepress free vs premium version.
As an avid user of the Generatepress theme, we will discuss some key differences between the Generatepress free vs. Premium version in today's guide. Deeper dive, you would also find out whether trying the premium is a good option.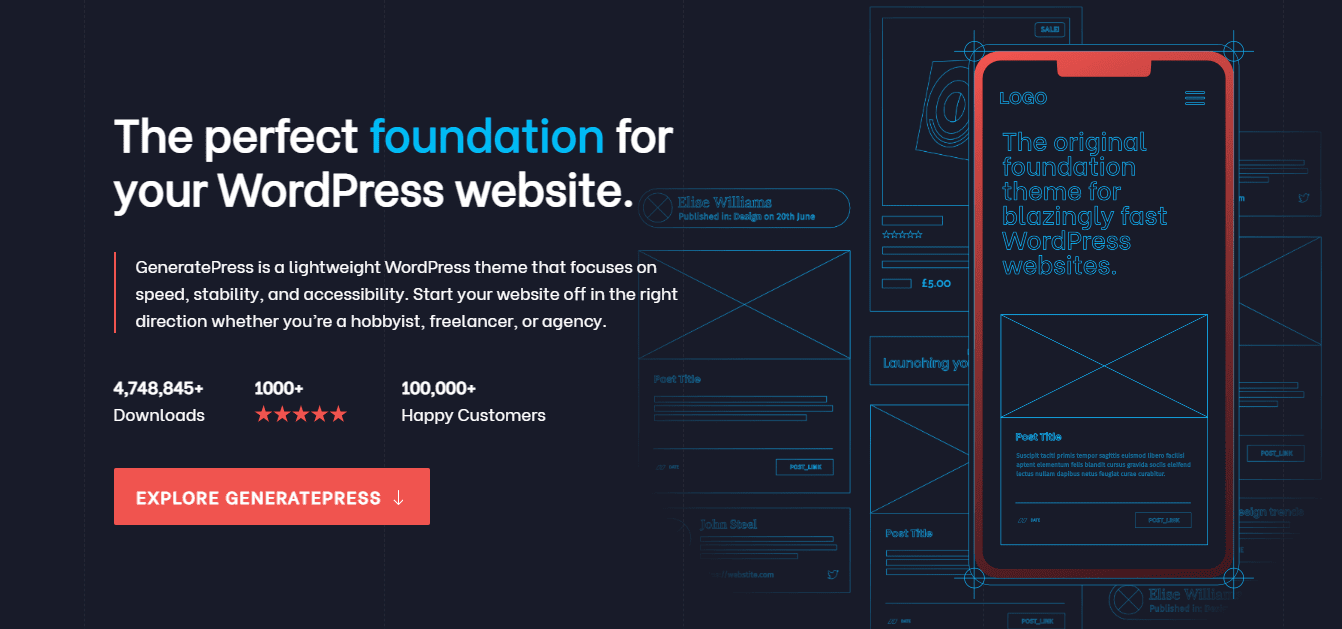 So, let's dig in.
Generatepress Free Vs Premium:
Generatepress can be the best alternative to any other theme in the WordPress library even though it offers much more compatible and better features than other premium themes, just like Kadence and Astra. Furthermore, Generatepress has incredibly changed the way websites are built today. By the way I have Wrote Astra vs Genratepress too, you can check it out.
Due to its flexible customizations, it's getting more popular daily. Here you can quickly find that around 4.1 million people worldwide are using Generatepress, and more than 90k people are using the paid version. Why were they using either the paid or free version, or should you use the premium version?
So, without further ado, let's find out together.
1- Features comparison:
So, first comes first. Here are the critical differences between Generatepress free vs premium themes.
Generatepress Free features:
Mobile responsiveness: The free version of Generatepress is lightweight, fully mobile responsive, and SEO-friendly. You can use it for any of your WordPress sites without any hassle.
Reset options: With its reset and click option, you can customize or reset anything in just one click. It means once you have done something wrong with the theme, you can still reset the design with just one click.
CSS customization: The custom CSS feature will let you customize each and everything using the custom CSS option. Remember, it's always recommended to use it if you have a little coding knowledge, as you can customize the theme.
Typography and fonts: With over 100 free fonts, you can customize your site look without even paying a penny.
14 pro modules: With its 14 pro modules or even known as "site library," you can customize your site much more efficiently.
Widget areas: Generatepress is free, offering you different widget areas to make your customization more enjoyable. The footer has different widgets that you can use for free. Furthermore, the top widget lets you customize the important information of your site, just as phone number, email address, and any other essential information.
Back to top: With its back-to-top button, you can also decide whether to use it.
Tutorials: Many tutorials and documentation are also available for how to customize your WordPress site with it. From activation to customization, all the guides are available and free of cost.
Generatepress Premium features:
Site library: An extensive library with over 33 demo sites. These demo sites are easy to import and with just a few clicks. So, it doesn't matter whether you are creating e-commerce, Portfolio, or any other type of website; Generatepress premium has got you covered.
Blog customization: This will let you customize your blog's layout, featured image size, or metadata into a grid, column, or any other way you like.
Bunch of colors: More than 60 color options are available to customize the colors of your site headings, links, paragraphs, and everything. This will help you to make your site more customized, appealing, and beautiful.
Typography and Fonts: The availability of more than 70 typography options and 100 fonts will help you customize your site's outlines. You can even download the Google fonts and use them on your website to make them more appealing.
Elements: The most interesting part of using Generatepress premium is the element section, where you can customize the header, footer, layout, background, menu, navigation, and other site collection with ease.
Import and export: As the various theme settings are available, you can also import or export any of the themes with the help of just a few clicks.
Disable elements: Various element options are available, but the good part is you can also disable all those elements. For example, if you wish to appear on a page or a website differently, you can turn off all those elements and make your site look more customized.
Copyright: You can also change the copyright text the in the footer section without hassle.
Support system: The ultimate 24/7 support from the officials will be available to you. So, whenever you get stuck somewhere, take help.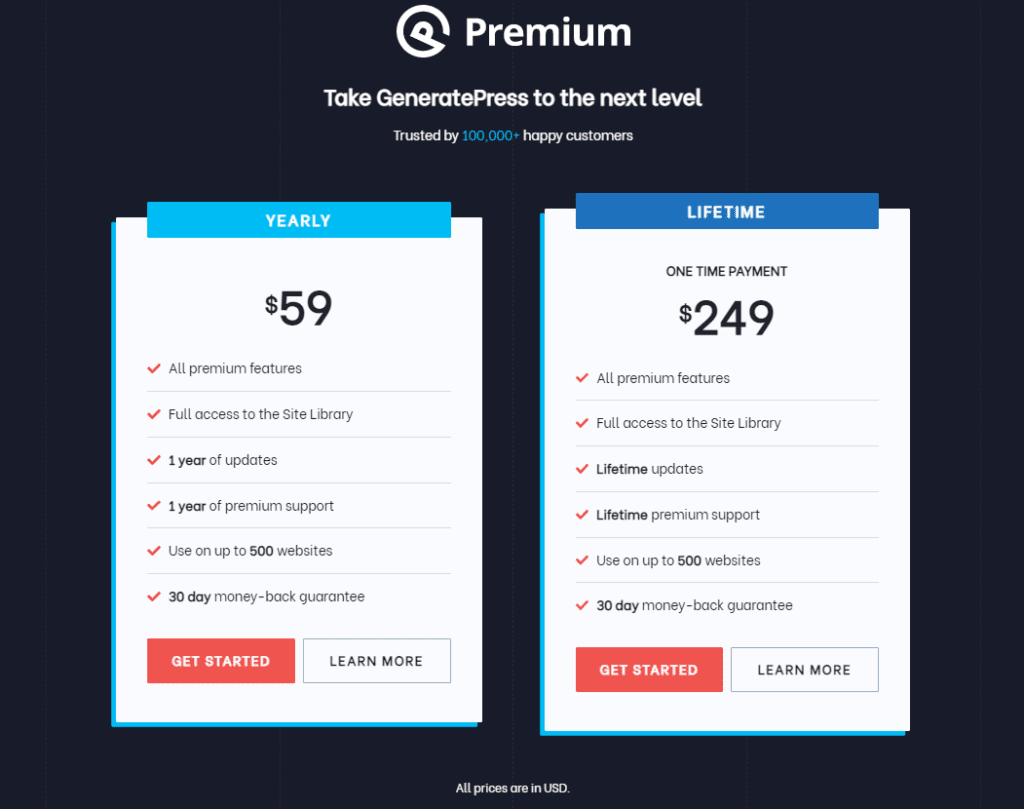 2- Pros and Cons Comparison
Though Generatepress is a fast-loading and lightweight theme that many creators trust, unlike any other theme, it has pros and cons. So, let's find out all of the advantages and drawbacks of both Generatepress free vs premium versions.
Generatepress free:
Pros:
It will cost 0 to create a website
Can create unlimited sites for a lifetime
Site library with 14 modules options
The theme will remain mobile responsive
SEO optimized with fast loading
Plenty of features, just as typography, font, and the pre-build library, are also available
Cons:
No customer support
You will need to have a good grip on CSS to make further customize your site
Wouldn't be able to import or export anything.
The pre-build footer powered by Generatepress will remain there.
Generatepress premium:
Pros:
100 plus customization options
Money back guarantee for 30 days
Child theme support is available while making any changes
Full access to unlock the features of the site library
24/7 customer support
You will be capable of using it on unlimited sites, whether your own or your client
Mobile-friendly and lightweight
More than 33 sites are available to use
Fast loading on mobile
Free access to documentation and support systems.
SEO friendliness
No need to have extra page builds, just like elementor
The premium plugin is also available, which is less than 30kb in size
Cons:
So, Is it Worth Upgrading?
A big YES! You should upgrade from the Generatepress free version to premium specifically if you don't have a budget restriction and can buy it. As an avid user of the Generatepress theme on WordPress, it would be worth your money according to every aspect it'll pay back all the things Regarding WordPress SEO and Essentials to websites are available.
It would be hard to find any other batter alternate who could provide you with such kind of hassle customization. Remember, there are no drag-and-drop options, so you might have to struggle initially while trying to get used to the theme. But, once done, you will enjoy it.