Whether you want to disable the comment in WordPress for SEO purposes or for spam comments reasons, your concern is pretty fair.
And yes, you don't need to worry, by simply disabling comments you can avoid spam comments and improve the site's performance too.
So, let's find out together how you can do that in the easiest way.
Why Disable Comments in WordPress?
There was a time when having comments on your site or a blog post was a helpful strategy, but nowadays, it's not worthwhile. That's why there might be hundreds of reasons why you are looking for how to disable comments in WordPress, but some of the common reasons why you need it are these.
Starters especially need to disable those comments badly as those comments don't have any link with the conversation, but they are just made for the spammy links.
Having useless spam comments on your site will decrease its speed and performance; nothing else. And disabling them would help you to improve load time.
Several types of websites don't necessarily need any comment section. That's why disabling them is the best choice.
There would be specific posts that don't need any comments, just like your about us section or a product page.
So, these are some of the reasons why you should disable the comment section.
In short, considering this idea is worth it, and you don't need to roam around for how you could do that as Tipsoont is there with their exquisite tips.
How to Disable Comments in WordPress?
Whether you want to partly disable comments – specifically for a blog post or for some specific pages; WordPress has a solution. And, of course, how would they not have it, as that's the same ease of use that makes WordPress the most used blogging site?
45% of Global sites are operated on WordPress, which is a huge number, so having unavailability of this opportunity would be pretty unfair.
Yep, WordPress has this opportunity to disable comments either partially, fully, or only in a single post.
So, let's discuss all of your related concerns one by one.
1- Disable comments on a specific page or post in WordPress: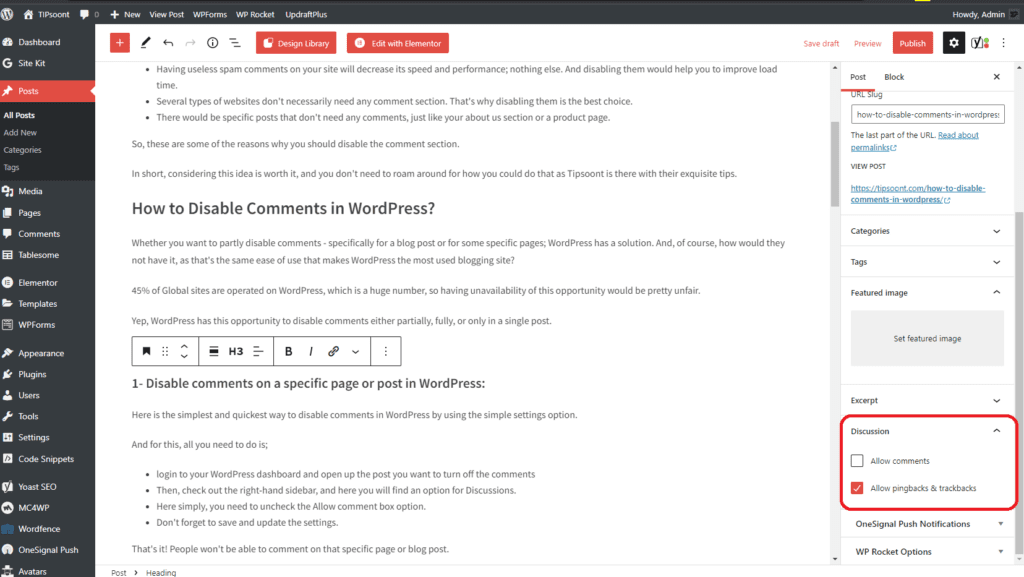 Here is the simplest and quickest way to disable comments in WordPress by using the simple settings option.
And for this, all you need to do is;
login to your WordPress dashboard and open up the post you want to turn off the comments
Then, check out the right-hand sidebar, and here you will find an option for Discussions.
Here simply, you need to uncheck the Allow comment box option.
Don't forget to save and update the settings.
That's it! People won't be able to comment on that specific page or blog post.
Good to know: it would limit the people from future comments and won't delete the previous comments. It would be best if you did this manually under the comments tab of your WordPress dashboard.
2- Disable comments of all future posts in WordPress:


Depending on the website type, you might want to disable comments for all of your website's future blog posts. Do you?
Well, don't worry, you can also do this manually from settings, and for this, you need to;
Login to your WordPress dashboard, and then in the left sidebar, go to settings
Here you will find an option for discussion under the settings tab
Just uncheck the option of "allow comments on new articles."
That's it, the comment section for all future posts is closed now, and you had done this manually with a few clicks only.  
Good to know: if you still want to open the comment section of any specific post, you can do this without changing these settings (by using the above-stated method).
3- Disable comments on all published posts: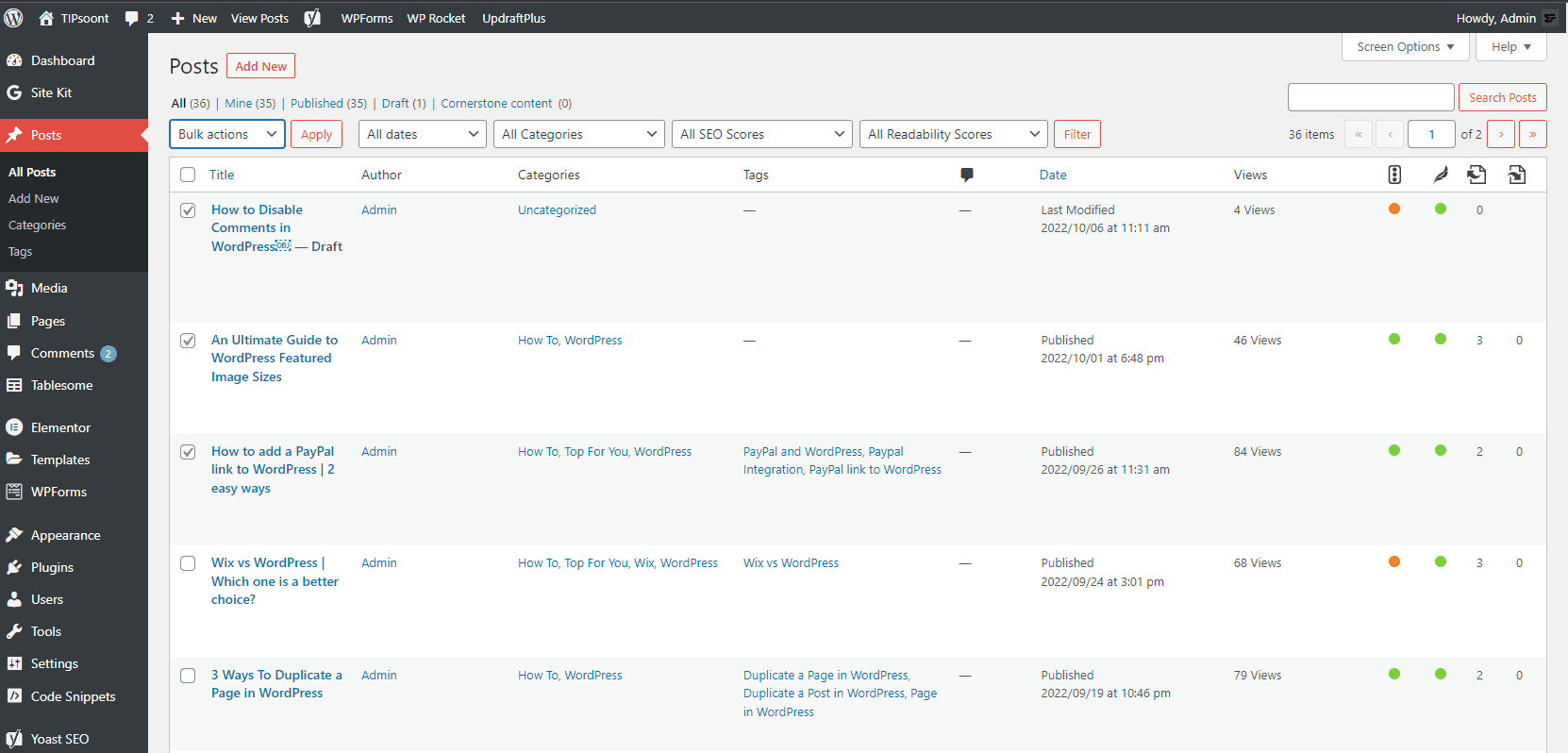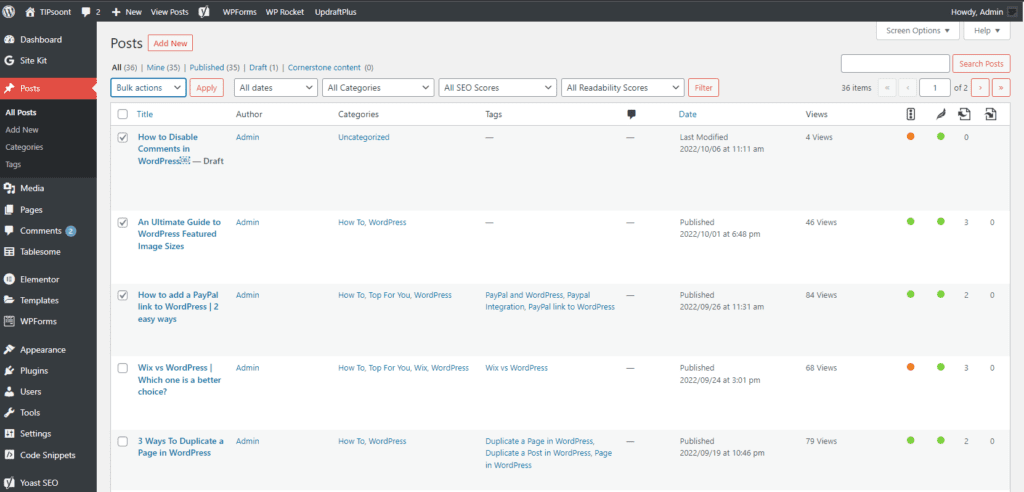 What if you were not aware of the opportunity you could disable comments in WordPress, and now you were thinking that it's too late? No, it's never been too late; you still have a chance to turn off the comments of all your published posts.
Let's find out how you can do this.
Login to your WordPress dashboard and then go to posts
Select all the posts you want to disable comments and click apply
Here you will be able to perform a specific action in bulk
Select the option of don't allow comments from the drop-down below
And don't forget to update the settings
Now, the comment section for all of your published posts is closed. You can also change the author name, status, and format of the posts in bulk using the same process.
Bonus: Delete all Comments in WordPress
Although we had enough discussion on how you can disable comments in WordPress, what if you still have a remaining concern about how you can delete all the existing WordPress comments from your site?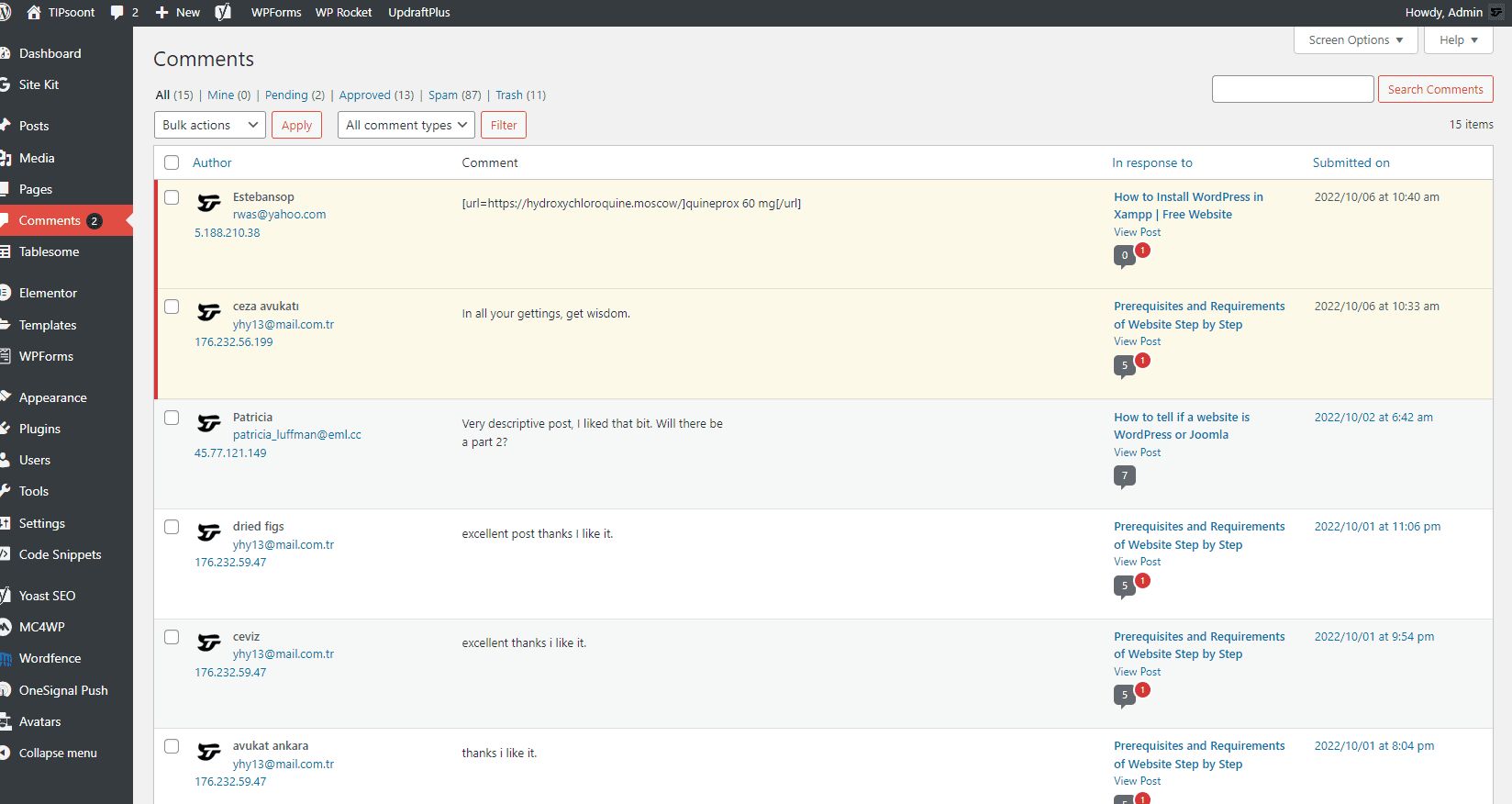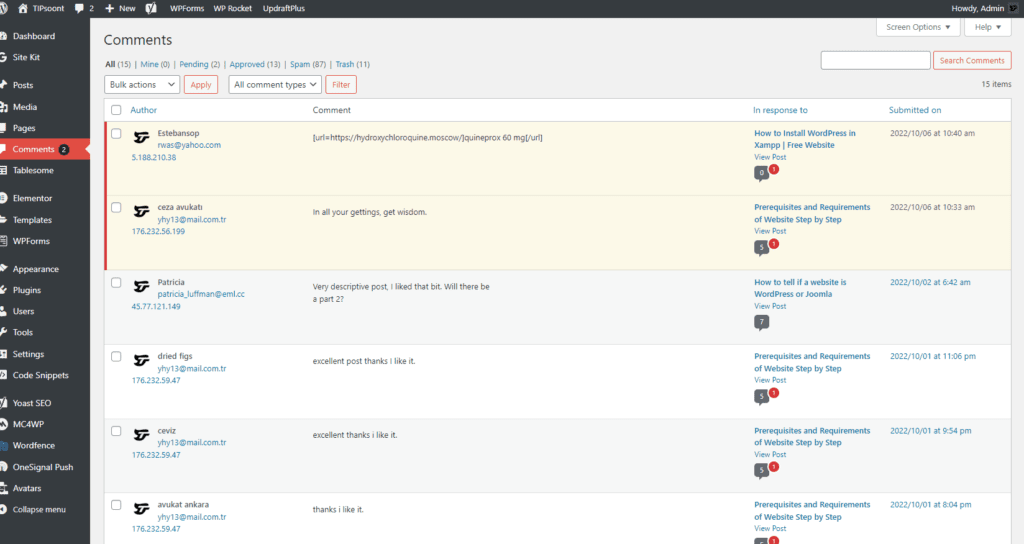 Well, you don't need to roam around for the answer. Here you will get to know how you can achieve this with just a few clicks.
Just log in to your WordPress dashboard and
find the option of comments in the left sidebar
Select all the comments you want to remove
Next, choose the option of removing to the trash and then click apply
Yes! the comments have been moved to the trash folder from where you can remove them permanently
Good to know: by applying this method, you can delete selective or a bunch of comments. But if your site has a vast number of comments, you need to repeat this process again and again.
Final Thoughts:
After reading this complete guide, you will know it's pretty easy. But still, if you don't want to do it manually, you can do it with the help of a plug-in.
Yes, plug-ins are an easy source to do this instead of manually, but it's not that difficult. Only a few clicks would get you through the process; otherwise, the choice is entirely yours.  
Enjoy giving it a read? If yes, don't forget to subscribe to our newsletter and write down any of the concerns that you might have left.
Till Next!