Undoubtedly, PayPal is the most extensive payment system with hundreds of active users around the globe, which is operated in 25+ countries. Do you want to add this payment method to your business and create ease in your and your users' life? Of course, that's why you landed there to learn how to add a PayPal link or buy now button to WordPress.
So, despite beating about the bush, let's get into the topic.
How to add a PayPal link to WordPress?
Though, WordPress CMS supports many plugins that would help you easily create buy now, add to cart, donation, subscription, and shopping cart buttons.
There are two ways to add a PayPal link to WordPress
Use a plugin
Or do it manually
Either way, both are easy to go, and your button is just a few clicks away. So, let's have a detailed look into how you can do the same without hassle.
Method #1: PayPal plugin
There are thousands of extensions available in WordPress that are creating ease in your lives. Most of the time, people prefer to use plugins just because they are pretty easy to use and will take their task from completion to just a few clicks away.
If you are also from some of those, let's find the plugins that would help you add PayPal links to WordPress more conveniently.
As the saying goes; you want to do something; WordPress has a plugin to do that. So, it's impossible to imagine that WordPress won't have any plugin to add a buy-now button.
So, here are the top most used Plugins for adding a PayPal link to WordPress.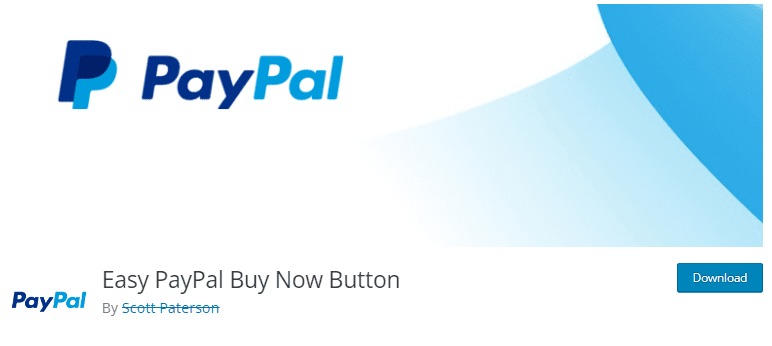 1- PayPal Buy Now Button:
It is a very efficient and convenient plugin with lots of functionalities, and the most important feature is its sandbox opportunity. If you don't have a PayPal account, it will guide you on how to create yours.
The "PayPal buy now button" plugin has 4 button styles compatible with all the themes. If you feel stuck anywhere, you can read their detailed guide because they also have built-in support in 18 languages.
So, you don't need to roam around; install and activate this plugin according to their instructions.
2- WordPress Simple PayPal Shopping Cart:
This plugin is highly beneficial if you want to add an option of the shopping cart to your WordPress site so that the user can add multiple products in their cart, ending with a single purchase option now.
Each product selected by the buyer will be added to PayPal. The final check-out button will appear to help the users proceed with shopping with easy payment of PayPal.
Just install and activate this plugin and enjoy its benefits.
Method #2: Create manually
Well, if you don't want to use any plugin because it might not be safe or whatever the reason is, don't worry; you can do it manually. It's not as difficult as it seems. All you need is a code and a few clicks.
So, let's find out together how you can do this quickly.
Disclaimer: make sure you have a business PayPal account to access all these settings, which we will discuss below.
Log in to your PayPal account.
Click on my PayPal and find the option of tools right there at the top of it.
Under the tools menu, you will find an option for all tools; click on it.
Here you will find several options; just find the PayPal button option and click on it to open.
By clicking on open, you will find the various button options from the smart button, buy now button, add to cart button, etc. select any of them, but we recommend using the smart button option.
Click on the smart button, and a page will appear up to you where you can configure the intelligent button style, currency, the amount, and other details (follow the instruction on that page to fill out)
Just fill out the complete details and click on the copied code option to precede it further.
Next, proceed to the next step of your WordPress dashboard.
Here you need to log in and then go to pages.
Select a page or post which you want to edit or where you want to add a PayPal button
Please put it in the HTML mode and paste the copied code right there (which you got from PayPal)
That's it, all done.
In the end, preview and publish the page from the button in the top right corner.
Now, your customers can make the payments globally that you will receive in your bank account, and you don't have to worry about it. Not only this, having a PayPal option means your user can make payments through a MasterCard, debit, or credit card wherever they feel comfortable, but having your papal account is a must.
FAQ:
What is the PayPal sandbox?
PayPal sandbox is a feature that allows test purchasing like you can do a live test to check whether a buy button works or not.
This is pretty much helpful to ensure that your customer won't face any issues and would be able to precede their payments without any hustle.
Well, it's totally up to you whether you want to use it, but it has countless features which make him a good option.
Some essential features of PayPal are
A secure payment method used around the globe
Sell your products or services anywhere in the world.
Accept a variety of payment options (like debit or credit card payments, pay with PayPal balance, or with credit and bank account; it's totally up to you)
You will be able to sell in any country wherever the PayPal system supports and works.
So, this isn't it. Those were just a few critical features of PayPal. However, plenty of growth opportunities are waiting for you to grow your business worldwide.
What do you need to add a PayPal link to WordPress?
To integrate the PayPal option in your WordPress, there are no requirements. All you need is just 3 things
your PayPal merchant, I'd
PayPal mail through which you had logged in
A default currency code
That's it; you will need these 3 things; it doesn't matter whether you are using a plugin or doing it manually.
Conclusion | How to Add a PayPal Link to WordPress?
Well, there is no hard and fast rule through which we could answer you which method you should use; either the use of a plugin will be helpful for you or by doing it manually.
But all we can say is if you are a complete beginner or want to do this without any hustle, go for plugins, but if you have some knowledge of tech or are afraid of using plugins, they can steal your data, go to method number 2 (manual).
It doesn't matter which method you will use for it because the ultimate purpose and goal are to create ease in prospective buyer payments, which you can achieve through both ways.
If you enjoy this guide, don't forget to subscribe to our newsletter to read more like this.
Till Next!
Recommendation: Create your site in 5 simple steps and 10 Best Website Content Ideas