Do you know more than 55% of searches are made on mobile phones, and having a phone number linked to your site is an excellent opportunity to increase conversions? 
However, nobody loves to follow the daunting process of copying and saving the number into the phone book to make a call. 
Moreover, making your phone number clickable in WordPress will help you get the maximum leads.
And in today's guide, we will walk you through the process and show you how to make a phone number clickable in WordPress easily.
Ways to Make a Phone Number Clickable in WordPress:
Want to help your readers contact you using a hassle-free one-click process?
But how? Here are the quick ways to make a phone number clickable in WordPress.
So, read on to reduce the possibility of typos while typing a number and accidentally calling the wrong number.
Using WordPress Editor or Hyperlink: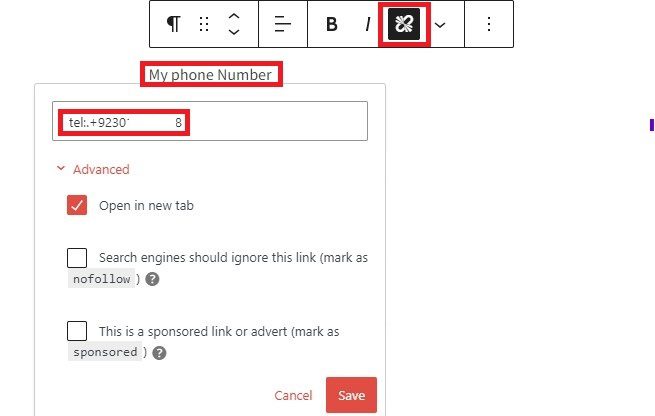 The easiest solution to make a phone number clickable on WordPress is its editor. However, WordPress offers two types of editors – classic or block, and it is possible in both.
Remember, to make it happen, hyperlink the number using the format "tel:."
The process remains simple.
Open up any page or post where you want to add a link. Next, write a paragraph you want to add and then hyperlink your number with tel:.
For example, select the text that you want to hyperlink and write your number like this "tel:.yourphonenumber. 
That's it!
Now, the text is hyperlinked, and your user can quickly call you with one click.
Using HTML:
If you are a coding person or know a bit of coding – using a simple HTML code must be your preferred way of doing so.
Not only these but using HTML code to make a number clickable in WordPress will let you add a phone number anywhere on the website, not only the pages or posts. For example, template files.
Login to your WordPress and get access to the dashboard.
Open the page or post you want to customize.
If you use a classic editor, you must change the tab from "visuals" to "text." However, using a block editor, you can paste the code below into an HTML block.
<a href="tel:7178675309">call now</a> 
Now simply update or save changes to see if it works. However, you must change the number with yours and not use any space, hyphen, or symbol between the numbers.
A display button usually has a better attention span than a hyperlink. Furthermore, these customized text buttons instantly pop into the user's mind.
Here is another way to make a phone number clickable in WordPress using a button.
For this, all you need is;
Open the page or post with the editor.
Find the + icon and choose the button option from there.
If you didn't find it, search for it and select to appear.
After selecting, customize the button from the right sidebar.
Add your number with "tel:.followed by your number." No space, no hyphen, or any other mark – just your number with your country code.
Now, publish the changes and see how it looks.
Use a plugin:
Well, a plugin is the go-to for beginner website designers or developers. Conversely, WordPress is also a user-friendly CMS offering third-party tools for plugins to help the users.
To make a phone number clickable in WordPress, we recommend a "wp-call-button." It is one of the best and most user-friendly plugins for a fully customized phone number link.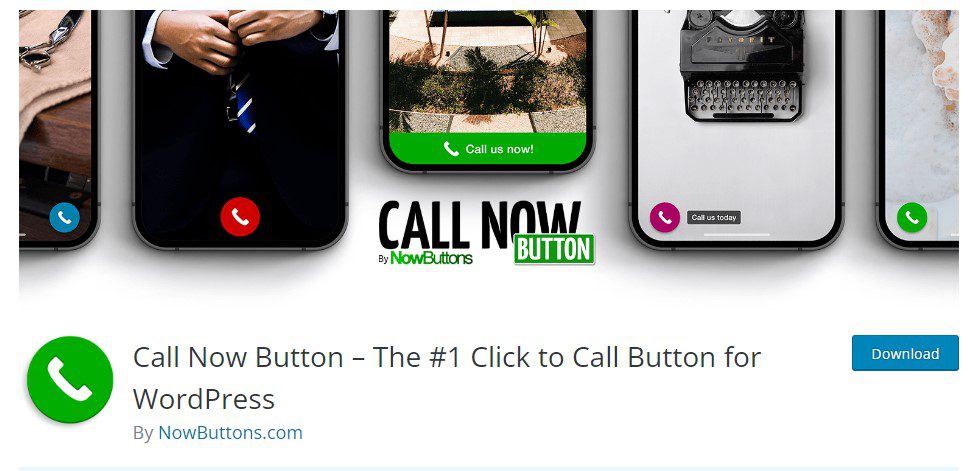 All you need is to install and activate the plugin and start customizing. Changing the button background, text, color, or icon is totally up to you.
Remember, first, you will customize the plugin and then add a shortcode to the post to make it happen.
The Bottom Line:
To conclude, don't consider only that it will be a generic button to help the user because you can also use it to increase your CTA. This will help you to boost your conversions to an extreme level.
So, if you have any more questions or facing any difficulty while making your phone number clickable in WordPress.
Just write in the comment section or reach out to us using our Contact Us section.
Till Next!