By default, every WordPress site has a "leave a reply" text under each post to let the user share what they think about your sharing. But, this default text sometimes seems boring and creates a general look into your site. So, if you want to use your brand tagline or an engaging hook line rather than the boring "leave a reply" text, you must change it. And to change the leave-a-reply text in WordPress, we highly encourage you to edit the comments.php file. Don't worry; here, we will walk you through how. All you need is just keep reading.
Is it Possible to Change the Leave a Reply Text in WordPress?
A huge YES! It is completely possible to change the default leave a reply or comments text in WordPress into a personalized text that matches your user needs and the content of your site. However, if you don't want to hear from your users for any reason, you can still turn off the commenting on your WordPress Website by simply disabling the comments. But, in today's guide, we will share some of the exquisite ways to change and leave a reply text in WordPress without hassle.
How to Change Leave a Reply Text in WordPress?
Just like the twenty-ten themes of WordPress, most of the themes have the same "leave a reply" text under each post. As you have the unlimited opportunity to customize your site, then changing this text into any other different message is also encouraged. So, let's dive deeper into it and find out the 2 quick ways to change leave a reply text in WordPress in twenty-ten or any other theme.
Method # 1: Using a custom code
However, this method is not encouraged to apply until or unless you are a web developer or understand custom PHP files better. But, creating a child theme before you actually precede this method is recommended to customize the settings without destroying your live site.
First of all, log in to your WordPress dashboard.
Access the comments file from the Appearance section on the left-hand side. The comments file will appear as comments.php.
Just click on it a page will appear where you need to locate the line stating "<?php comment_form_title( __('Leave a Reply.'"
However, this text could also vary depending on the theme; that's why if it's hard to find for you, then look for simple "title_reply" or "comment_form()."
Now, here you can simply edit the text of "leave a reply" to any other as you wish.
Don't forget to save and update the changes made by you.
So, this is how you can change the "leave a reply" text in WordPress. But, the steps mentioned above are useful if you have prior knowledge of PHP and know how to customize these files. If you don't know, you must create a child theme and copy and paste that comments.php code into the child theme from the parent one. This will help you ensure the code changes will not let the website go down.
Method # 2: Using a Plugin:
Talking about WordPress's customization options and the importance of plugins is completely unfair. That's why if you are a no-code person but still want to change leave a reply text in WordPress, then here you also have the plugin named "say what?" with which you can easily edit the comments prompts.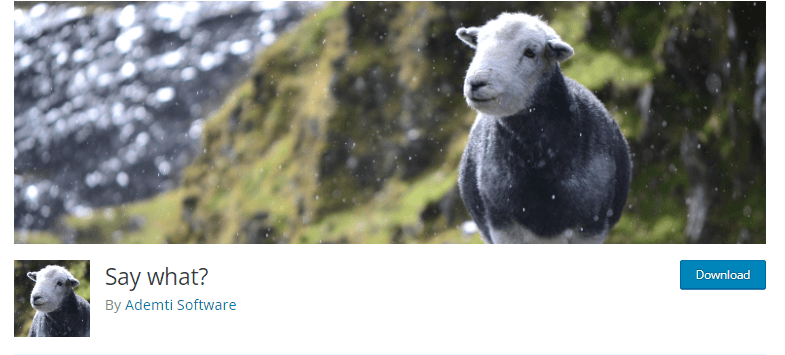 Login to your WordPress dashboard and install and activate the plugin to initiate customization.
Open the plugin from "tools" and get access to the "text changes" and then "add new."
Next, you will find the two sections under these settings – Original and replacement strings.
In the original string, simply type "leave a reply," and in the replacement string, simply change the prompt you want to show.
Now, you are all done. Just click to save and update changes.
Simple as that, with the help of, say what? Plugin, you can easily edit and replace the text above the comment section. You can do this even without knowing any prior coding or experience.
So, Do You Really Need to Change "Leave a Reply Text" to Any Other Text in WordPress?
The comment section is a call to action; boring text won't look engaging. That's why to push the reader to comment more, engage more, and share more, a slight change in text, color, size, or placement could perform wonders.
So, if you have searched for how to change leave a reply text in WordPress, we are sure you are already aware of its importance. And hopefully, you got the answer too. If you have further queries, write in the comment section; we would love to be there.
Till Next!
Latest posts by Zainab Hassan
(see all)